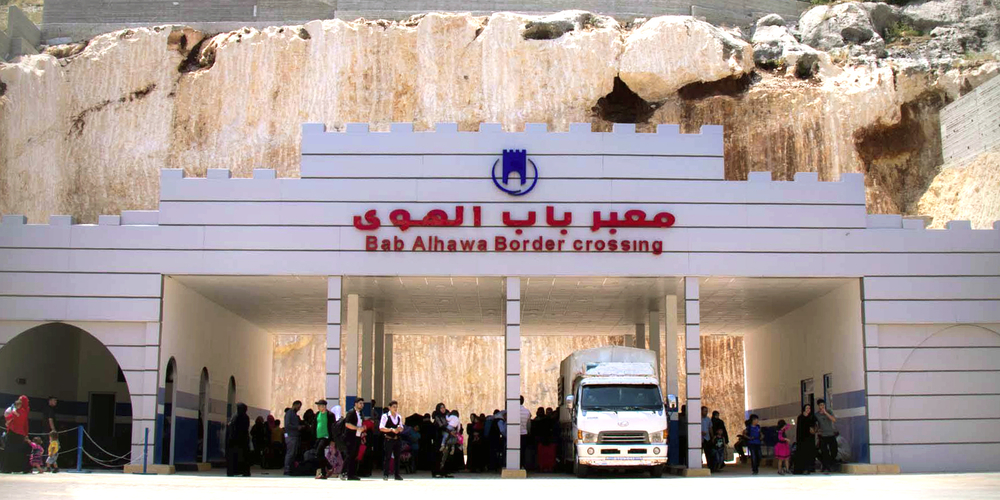 Written by Ahmad Nathir
Friday the ninth of July was a pleasant day for the Syrian people in the liberated areas. The UN Security Council has unanimously approved a resolution extending the delivery of humanitarian aid for a year from Turkey to opposition-held northwest Syria. The aid will be delivered via Bab al-Hawa border crossing, the only direct link Idlib province has to the outside world, it is a humanitarian corridor that facilitates the distribution of food, COVID-19 vaccinations, medical supplies and other necessities.
About 4.4 million Syrians in Idlib depend on UN aid, mostly women and children that have often been displaced throughout the decade-long war that was waged by the Assad regime, with his Russian-Iranian alliance.
UN Secretary-General Antonio Guterres on June 23, warned the UN Security Council about what will happen to Syrian civilians if the border is closed. "A failure to extend the council's authorization would have devastating consequences," Guterres said.
Meanwhile, Russia – the main backer of Bashar al-Assad's regime – opposed an extension, saying that the aid deliveries only benefit the opposition forces that control Idlib.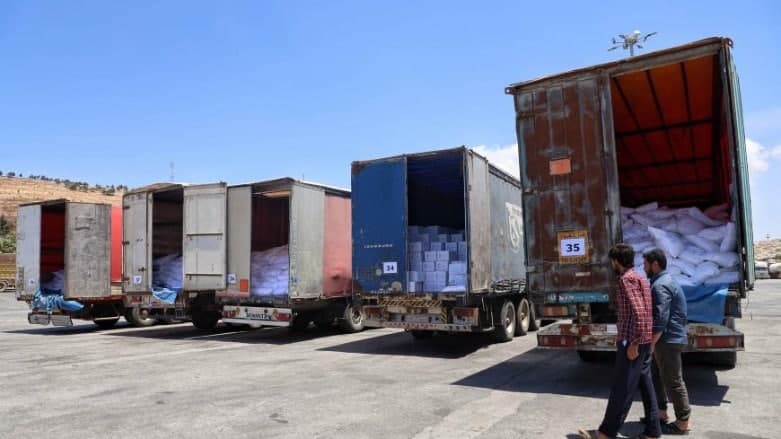 Main Issue
The main issue before was whether the council should authorise deliveries through the Bab al Hawa crossing to northwest Idlib for another year, as the West, UN and humanitarian groups said was critical — or for six months as Russia, the Syrian regime's closest ally, had insisted on. The current one-year mandate for aid-delivery through Bab al Hawa would have expired on Saturday. The resolution authorises aid deliveries through Bab al Hawa for one year with a report from UN Secretary General Antonio Guterres in six months on the "transparency" of the aid operation and progress on delivering aid across conflict lines within Syria as Russia wanted.
The Bab al-Hawa border crossing, at the Turkey-Syria border, is the last crossing with a UN mandate allowing aid to be delivered directly to regions in need without passing through the Assad government in Damascus.
The UN Security Council designated four border posts to directly access northwest Syria in 2014 in an attempt to supply local people with essentials. However, by 2020, all but one were closed, as Russia and China opposed continuing the remaining crossings. About 1,000 trucks carrying humanitarian aid go through Bab al-Hawa border crossing monthly. This minimal access enabled humanitarian organisations to assist 2.4 million people a month, this includes providing 1.7 million people with food, 85,000 people with nutritional services and 78,000 children with educational assistance. With this extension a glimmer of hope was created for the Syrian people in the Idlib region.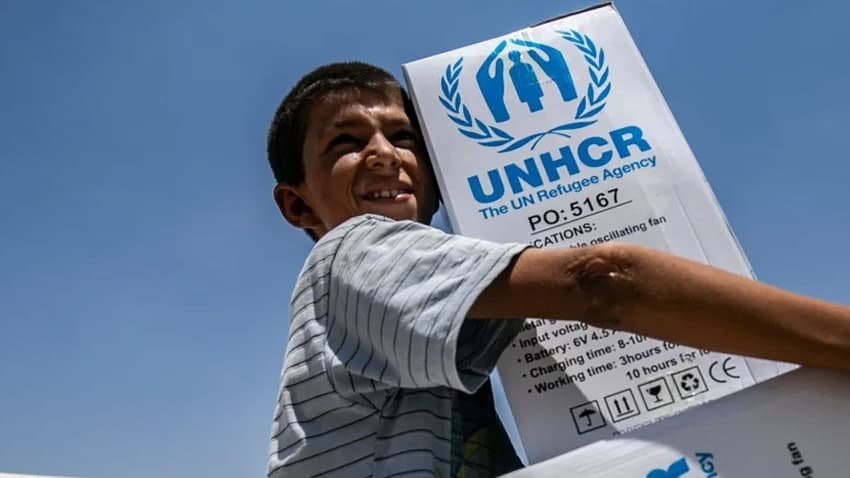 "Most people in the region depend on the aid and assistance from governmental and non-governmental organisations. Therefore, in light of the lack or even the absence of the most basic necessities of life, aid in terms of food and medical supplies, along with the continued deterioration of the living conditions of civilians, the region would face a different kind of death toll," said Samer Bakkour, lecturer of Middle East Politics at the University of Exeter.
Bakkour noted Syria's refugee crisis is the world's worst since World War II. "So it was not easy for the UN, or even non-governmental organisations, to work on the Syrian crisis," he said. However, UN aid remains "insufficient" and it has not found answers to the central issue in the country: the displacement of more than 11 million Syrians – 6.1 million internally and 5.5 externally, said Bakkour.
Ahmad Abu Amjad, a volunteer for the al-Meezan Foundation charitable organization told Levant 24: "Many people in Idlib are jobless and live in poverty. The majority of the population depends on humanitarian aid, which in it self is not enough, and in the absence of it, many people will suffer from starvation".
"The UN aids us by sending didactic teaching aids and books for children, if they stop sending them, some students in Idlib will not be able to complete their education as their families are unable to purchase educational supplies for them", said Abu Amjad regarding if the blocking of aid through Bal al-Hawa will have an impact on children's education in northwest Syria.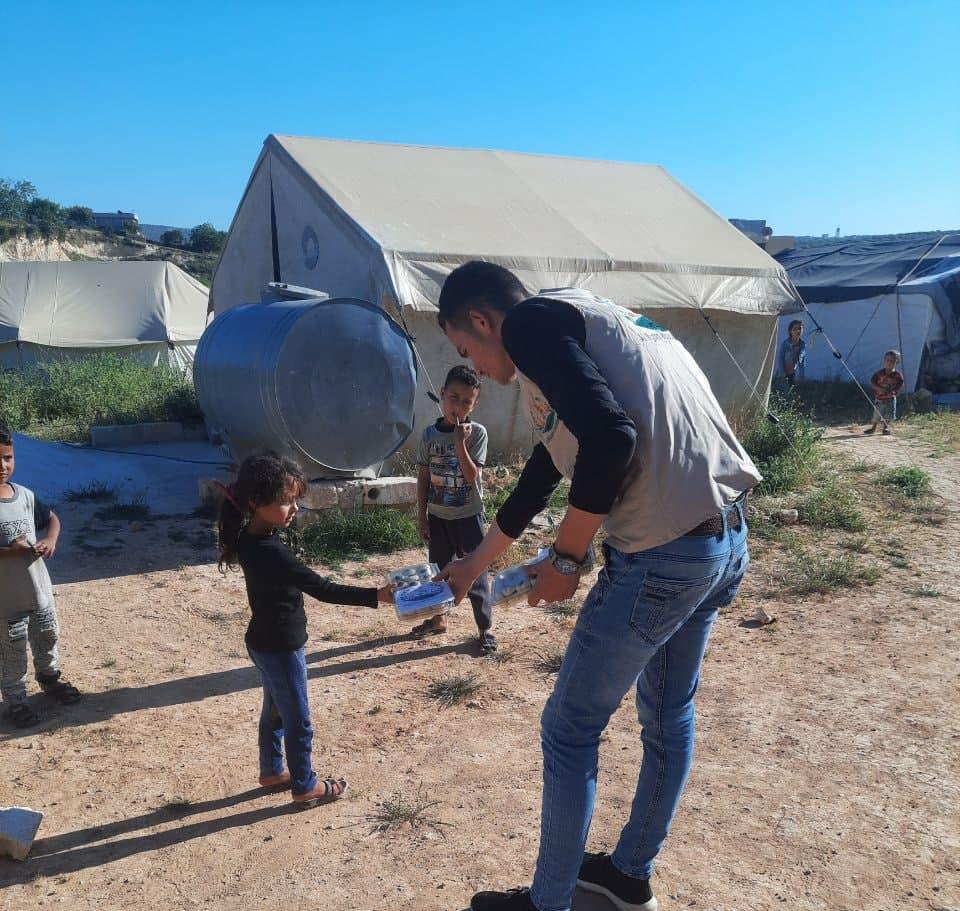 Covid-19 Spiraled Again
Calls by international aid organisations, such as Islamic Relief, emphasized the importance of the renewal of the UN resolution from few months ago.
"We want the UN Security Council to renew the cross-border resolution for at least another 12 months so that aid can continue to pass through the Bab al-Hawa crossing," Alun McDonald, head of external relations at Islamic Relief, said.
Several NGOs have been calling to restore currently closed border crossings to guarantee sufficient access to lifesaving assistance and allow them to respond effectively to the COVID-19 pandemic. "Ideally, we also want the crossings that were closed last year – at Bab al-Salam and al-Yarubiyah – to be reopened. Since their closing, the need for food, medical supplies, and COVID vaccines has further increased," said McDonald.
McDonald said closing the crossing would cut more than one million people off from lifesaving food aid at a time when malnutrition is already rising. "If the border shuts then food aid supplies could run out within two months. There are no options inside Syria to match the scale of aid that can be brought in across the border," he said. On top of the humanitarian crisis, the COVID- 19 pandemic has also exacerbated suffering in Syria. The number of infections reached a new high in May with at least 25,205 confirmed coronavirus cases and 1,851 deaths. Many say the actual figures are likely much higher.
"COVID-19 cases have spiraled again recently, and hospitals cannot cope. Islamic Relief supports hospitals where medical staff are working round the clock as their caseloads have quadrupled recently from a devastating combination of COVID, malnutrition, and rising mental health issues," said McDonald.
"We work with doctors who have to put two children in every bed because they do not have sufficient space. People are dying because health facilities lack medicine, equipment and supplies such as oxygen and ventilators. Blocking aid during a global pandemic would be morally reprehensible," he added.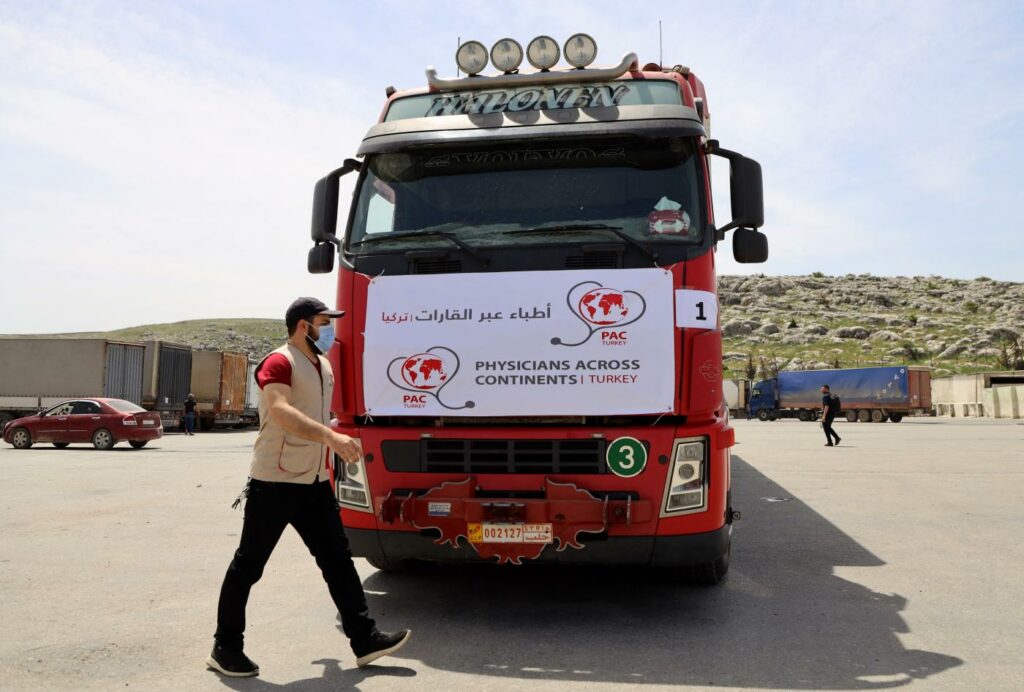 Millions in Danger
"We rely entirely on aid, We're short on medicine and surgical equipment but when we get it, it's delivered through Bab al-Hawa." Dr. Hamzeh Hassan of the Bab al-Hawa Hospital, the largest medical facility in the area.
"We're now at the second wave of COVID and cases are growing exponentially, some more equipment and medicine should arrive soon – but if the border closes, we will have a humanitarian catastrophe." Dr. Hassan said.
Idlib's vaccination rollout has also been slow. "Just over 17,000 people are vaccinated, mostly front-line workers, if we reach the peak, May Allah forbid, we won't be able to handle it." Dr. Fadi Hakim of the Syrian American Medical Society Foundation (SAMS), said.
Over the past decade, hundreds of thousands of Syrians were killed and millions displaced. Idlib today is Syria's last opposition stronghold. Syrian and Russian forces have pounded Idlib in recent years to reclaim the province, routinely bombing hospitals, schools, markets, and homes, causing a humanitarian crisis. The COVID-19 pandemic has also worsened the already dire situation.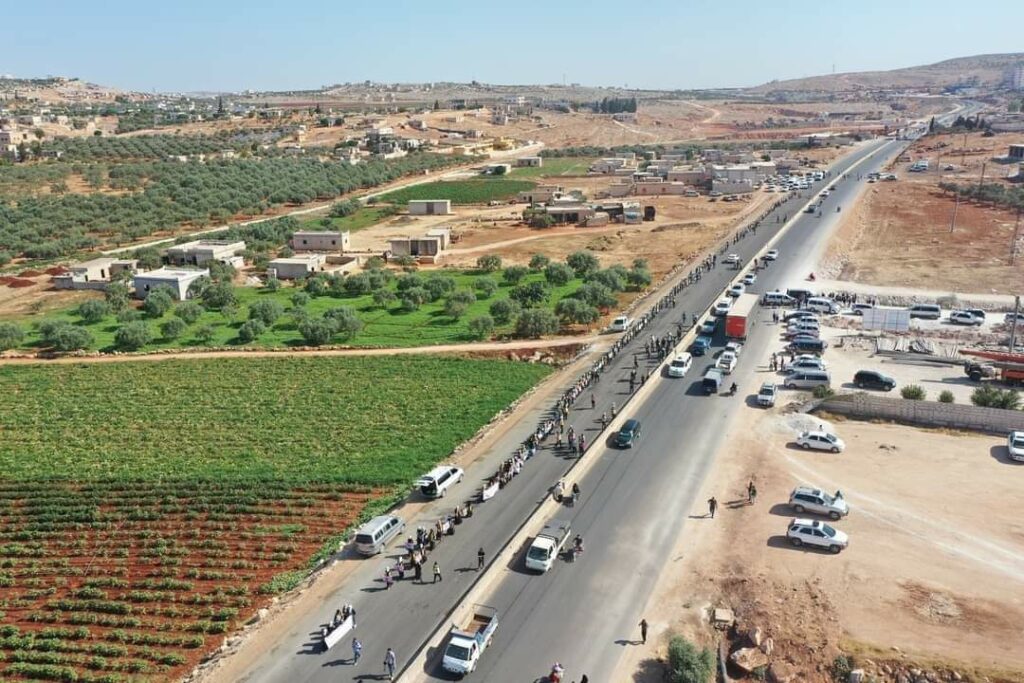 Refusal of Aid Passing Regime Territory
Russia always advocated before, replacing the cross-border system with aid deliveries via Damascus – often referred to as cross-line delivery – something that has never happened in Idlib. Many, including Dr. Hakim, reject that proposal altogether based on past experiences in besieged areas.
"When we tried to do cross-line deliveries in East Aleppo or Ghouta, at least 90 percent of the convoys were rejected," he said, adding his organisation had to get at least seven approvals from security and government agencies in Damascus. "And if even if you get the approvals, the convoys might be sent back at checkpoints and many of the items would be removed from the trucks. It's a nightmare."
The UN and partner organisation convoys often struggled to reach besieged or "hard-to-reach" areas, primarily laying the blame on government checkpoints. And even the assistance that eventually does arrive could be rendered useless.
"In some cases you see packages with just a couple of disposable gowns and shoe covers but that was considered 'reached'," UN Spokesperson explained. "And all of these delays and interruptions imposed by the government in Damascus led to a lot of medicines being disposed of, because they're expired by the time they get to the clinics."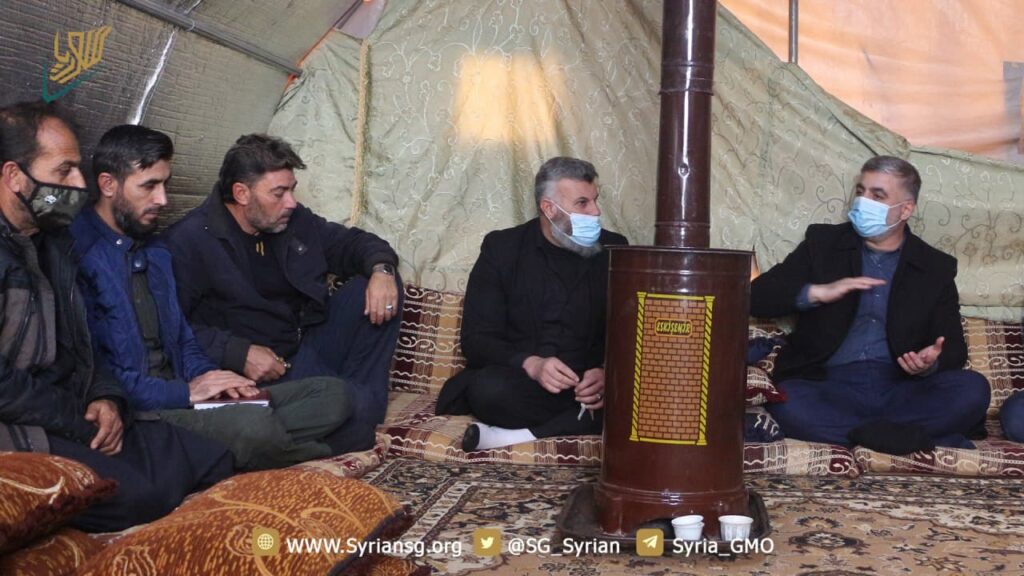 The Minister of Development and Humanitarian Affairs of the Salvation Government, Dr. Abdu Rahman Shamous, told Levant 24, "How can we trust a regime that has tormented its people, killed them, tortured them, robbed their property, displaced them from their homes, besieged and starved them, then we are expected to trust this regime to deliver aid?"
"The evidence that al-Assad regime stole and robbed the aid that was provided for the people in its area through the Syrian Red Crescent and other organizations is overwhelming ", he added.
He fears this will trigger the Syrians to again flee to Europe, "When a person loses hope in life, then there is no difference between life and death for them, they will follow the glimmer of hope, even though it is dangerous for them," said Dr. Shamous.
With the agreement on extending the distribution of aid for another year, the Syrian people in Idlib can breathe a sigh of relief, but it is only a temporary solution to the conditions they face, they need a permanent solution to end the barbarity of the Assad regime and its Iranian and Russian supporters.