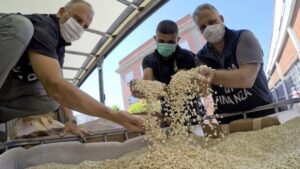 An investigation by Organized Crime and Corruption Reporting Project (OCCRP) revealed the involvement of members of the Assad family and gangs in Libya in the production and trade of illegal drugs across the Mediterranean sea.
According to the report published by the OCCRP, after long investigations, documents, data, and interviews it concluded that a network of Syrian criminals linked to the Assad family was involved in drug trafficking. It states that most of the drug shipments came from the Syrian port city of Latakia, which is under Assad's control.
The investigation added that a man from Latakia, previously convicted in Italy of stealing luxury yachts, works in the drug trade across the Mediterranean with Mudar Assad, the cousin of Bashar Assad.
The findings indicated that the Libyan court of Benghazi has documents proving the existence of cooperation between a gang that extended from Assad's control areas to Libya. The same network was involved in the drug shipment that was seized in Greece in 2018.
The Guardian newspaper published an article last month naming Syria a narco-state, saying that illegal drugs such as Captagon pills have become a main source of income for the regime that is struggling economically.
The drug trade and production are active in the regime's areas in an unprecedented way, with huge quantities of "Captagon" being seized during the past few months in several countries, most notably Saudi Arabia, Egypt, Turkey, Greece, Italy, and Jordan.