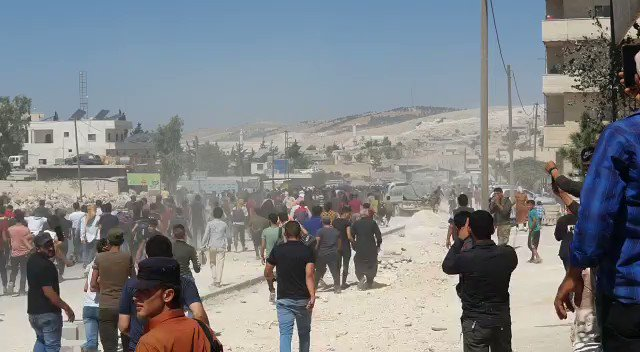 The Interior Ministry from the Syrian Salvation Government, has opened an investigation into the clashes that occurred yesterday between the security forces (from the liberated areas) and the civilians gathering at the Bab al-Hawa crossing, north of Idlib.
Reports suggested that the civilians wanted to enter Turkey through the Bab al-Hawa crossing, calling the process the Convoy of Peace. They were apparently stopped by the security forces at the borders which in turn led to clashes between the two sides.
A statement issued by the ministry said: "We at the Interior Ministry have followed up on what happened around Sarmada, regarding the hostilities with the security forces. The chief of the police force in Sarmada went to the location where the incident took place and followed up the details of it."
The ministry added that it focused on investigating deeply into the case to find out what happened and to find the individuals who initiated the hostilities (from either side). Consequently, they opened an investigation into the matter in preparation for taking appropriate measures.
A few days ago, Syrian activists called for the preparation of what they called the Convoy of Peace, which included hundreds of Syrian youths wishing to immigrate to Europe, through Turkish territory.
Throughout the years, reports have suggested that Syrian asylum seekers have been exposed to grave threats and obstacles during their long and arduous journey to Europe.
Moreover, many have lost their lives by drowning while trying to cross the sea, while others have been subjected to physical torture at the hands of border guards in the countries they had entered to (illegally), especially Greece.