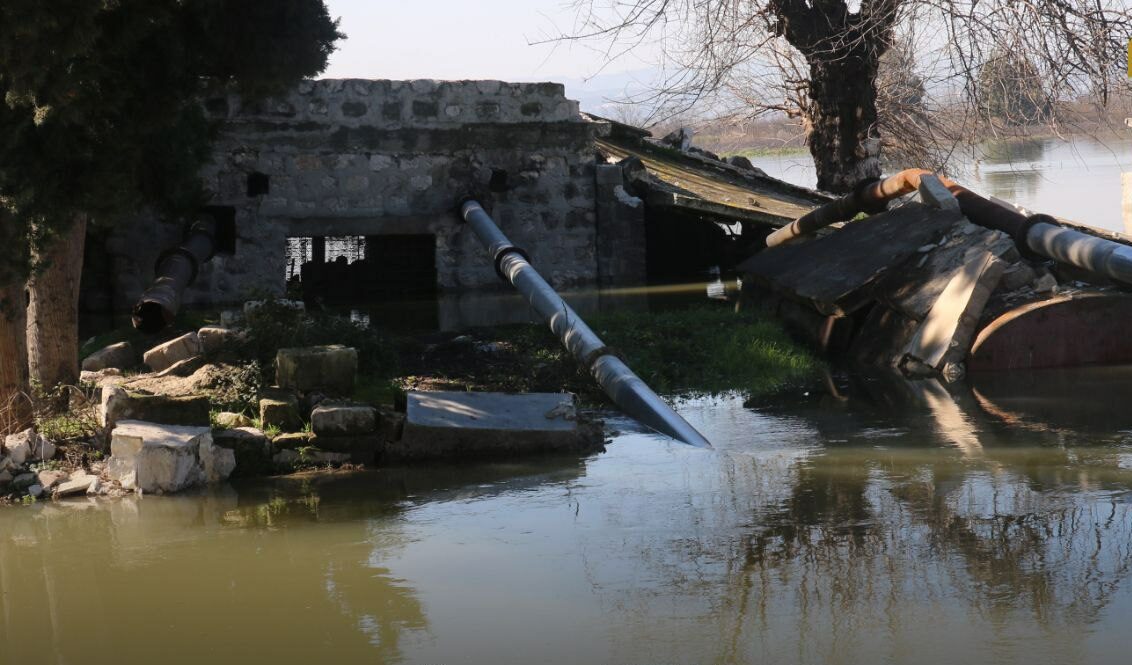 Following days of powerful aftershocks in the wake of one of the strongest earthquakes to strike the region in over 80 years the families of al-Taloul, a village near Idlib province's Salqin, were met with yet another natural disaster as their streets became streams.
Speculation and rumors began circulating on social media as homes became flooded, some claimed the earthquakes had exposed an underground spring, while others claimed a dam near the village had cracked, causing the flooding.
Dr. Muhammed al-Ahmad of the Syrian Salvation Government's (SSG) Ministry of Agriculture and Irrigation (MAI) addressed the issue in a press release, "There was a rumor that the al-Tulul Dam was cracked in the western countryside of Idlib and water was rising because of it. We affirm firstly that there is no dam in the aforementioned area, as it is rumored, and the main reason for the high water level is the opening of the Rastan Dam in the occupied areas for fear of its cracking. The second reason for the increase of the Orontes' water level in the border area is the collapse of the Beituni Dam between Antakya and Reyhanli in Turkey."
The SSG has been quick to act with representatives from the MAI inspecting the region and facilitating the evacuation of those in the flooded area. Three new emergency centers were also opened in Harem, Hayr Jamous to accommodate the flood victims.
Al-Ahmad told the press, "earth moving equipment began work by opening a number of channels to drain river water from the village of al-Taloul, while raising berms over water flows. Evacuation of the people from the village is ongoing," he assured the situation would be monitored, "we formed a specialized committee to conduct field inspections and monitor the water level of the Orontes River … in addition to removing the people from the region temporarily in order to preserve their safety and the safety of their property."
The Syria Civil Defence (SCD) are also aware of the situation and assures that their "teams are working to open water drainage channels, assessing the needs in the area, and providing assistance to the people."
Five villages in the outskirts of Salqin were affected by flooding, where close to 700 homes were flooded forcing nearly 7,000 people out of their homes.
Engineer Nasser al-Abdul Aziz, a member of the Emergency Response Committee (ERC) commented on the situation, "after the great damage to the people of the villages of al-Taloul, Al-Hardana, Dilbia, Jakara and Al-Hamzia due to the flooding of the Orontes River, we started helping people evacuate their homes, and secured shelters, and we are working to secure their necessary supplies as soon as possible."
Dr. al-Ahmad remains optimistic saying, "the situation in the village of al-Talul is under control, and we are working to help the people to get out of the village. Turkish teams have arrived at the collapsed Al-Hadid bridge in Turkey and have begun work to repair it, and we expect the work to be completed within a few days, if Allah Wills."