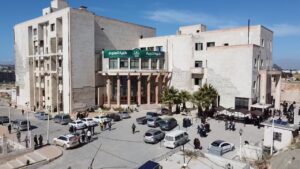 Written by Ahmad Nathir
Wars can destroy entire countries and devastate the lives of whole populations, but they cannot subdue the unyielding enthusiasm of its youth when they commit themselves to building a brighter future for their people. One institution has taken it upon itself to provide the knowledge and skills needed for this new generation to bring about the much needed changes in this war-torn region.
After a brief suspension of activities, the University of Idlib was soon reopened following the liberation of the city of Idlib from the brutal Syrian regime in early 2015. The liberators realized very early on the crucial role the university was going to play in strengthening the revolution and helping it tackle the huge social and economic challenges brought about by this war.
The last thing the liberators wanted was for this conflict to deny the youth the very future they had sacrificed so much to ensure. The concerted bombing campaign by the regime targeting the educational infrastructure reminded everyone just what was at stake; the future of those they most loved. What would be the point of a revolution that consigned its subsequent generations to a bleak, ignorant future? The enemy was bent on destroying the people's ability to rebuild their lives, and nothing could do that more effectively than destroying its education system.
The bombing campaign unfortunately also led to another setback for the region; the flight of the professional class, including educators. For many, the lure of financial stability and physical security was too much, especially when they knew that many countries were more than willing to welcome the knowledge and skills they can bring with them. This hemorrhaging was going to make any recovery of the education sector, and society as a whole, far more challenging.
And so Idlib University set out to enable students to continue their higher education up to the university level, and help prepare the next generation of educators and professionals.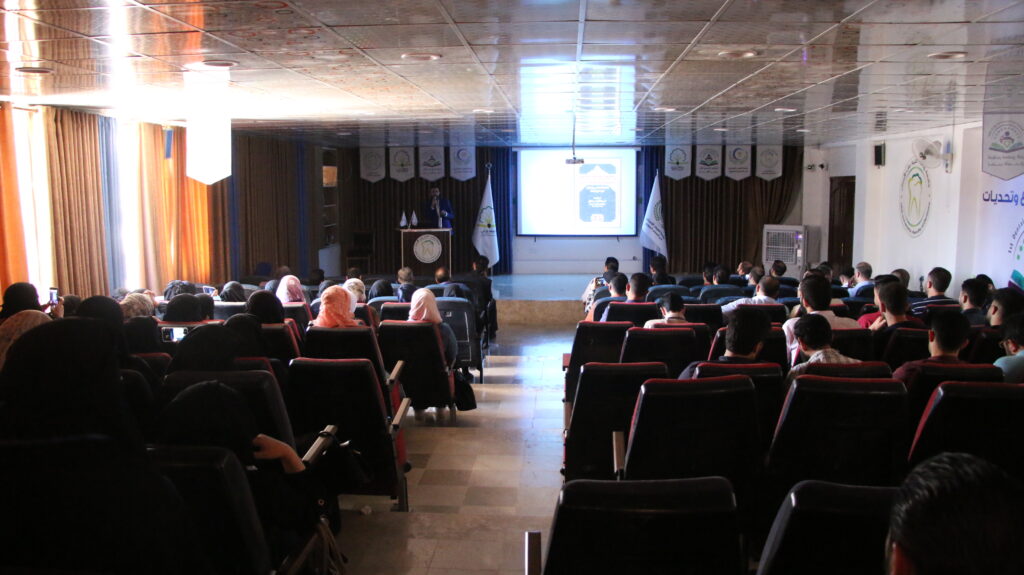 The Current Condition of Idlib University
Currently, Idlib University has 14 faculties and 5 institutes, with 250 teaching staff and more than 150 administrative staff. It offers Bachelors, Masters, and PhD certificates. Starting off with only 2000 students back in 2016, there are now well over 15,000 registered students.
The university was established in 2005 and had initially started off as a branch of the University of Aleppo. But following the liberation of Idlib, it became fully independent from the latter, which remained under regime control.
The director of the University of Idlib, Dr. Ahmad Abu Hajar, said during an interactive dialogue seminar held on May 27, "the Ministry of Higher Education of the SSG was able to control higher education in the liberated areas and close universities that did not meet the standards. As it granted licenses to private universities that met the required standards and helped them raise their academic level. The number of universities licensed and accredited by the Ministry reached: one public university and seven private universities."
This young university had to face a number of challenges, including a lack of financial resources, a shortage of teaching staff, and a lack of access to experts in the various academic fields. It had to also deal with the fallout of a broken education system that was no longer able to adequately prepare students for university education.
According to Dr. Ahmad Abu Hajr, the main obstacle they faced at first was the lack of teaching staff. " Idlib University has faced its fair share of problems, but there are no obstacles that cannot be overcome by Allah's permission, and we are grateful to Him for giving us a way to overcome these obstacles and these challenges. One major problem was a real shortage of professors, and so a lot of effort went into trying to bring them back. With time, the numbers have steadily grown to something a lot more acceptable," he said triumphantly.
Besides the human-resource challenges, the university has suffered from a real problem of under funding. "We unfortunately have very little funds. To build and run even a mediocre university requires significant funds. Adequate educational facilities such as lecture halls, libraries, and acceptably-equipped laboratories do not come cheap. Our funding mostly comes from student fees which naturally will be very limited if the university is to continue to be affordable for its students." "We have had to find clever ways of balancing expenses with income, in order to maintain the sustainability of this University," he continued.
When asked what careers graduates of the university can hope for, especially considering the lack of job opportunities in the war-torn economy, Dr. Ahmad replied, "Our graduates have the determination to use the knowledge they gain here to serve their communities, find ways to help revive their country, create job opportunities, and help the people of their country by providing different expertise in the various sectors of economic and social life. We hope this university provides solutions to the needs of our people. We are investing in our children in whom we have great hope to tackle the challenges our people will face in the future."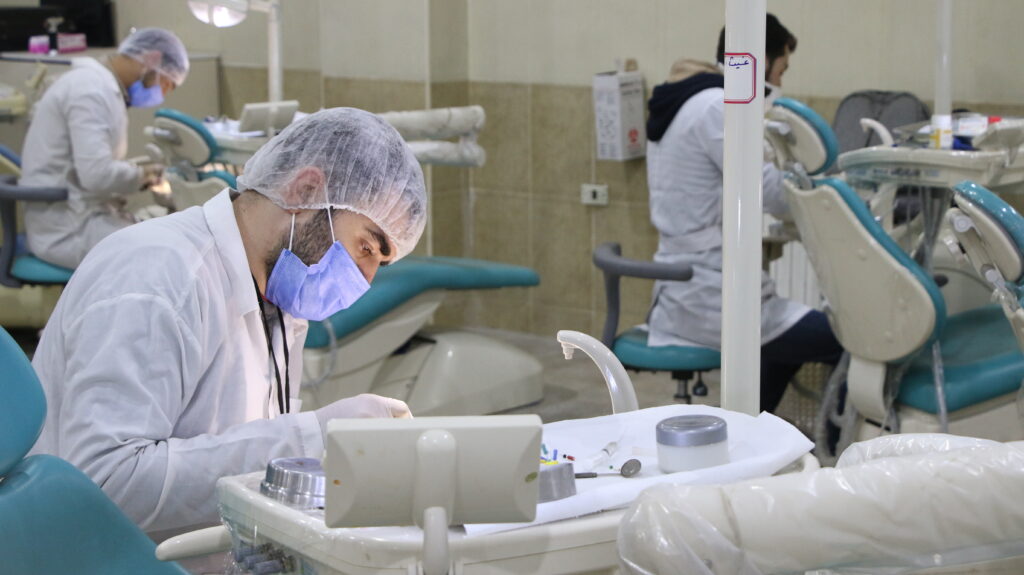 Passion and Hope
Dr. Sayyid, a lecturer at the Faculty of Medicine, made clear his determination to make a difference. "We are the sons of this country – who else will take on the task of education and progress in this country, if not ourselves? We are part of them and they are our future, so we try to give our knowledge as best as possible, and hopefully they will use it as best as possible in serving our country ", he said.
This determined spirit could also be found in the students. Many talked about their desire to make a difference and about their hopes of a brighter future.
Ibrahim Dudi, a student at the Faculty of Engineering who comes from the village of Armanaz, explained how his motivation to study at the University was to help his fellow citizens after he has graduated. He made it clear that his future lay here, and not in seeking work abroad. He also spoke of the difficulty he faced in commuting daily to the university, and how he hoped that in the near future students like himself are provided with dormitories to cut commuting time.
Another student, Reema al-Mumin, a medical student, shared similar sentiments when she spoke of her determination to seek a career in the medical field in order serve her community in the future. She understands that wages here are unlikely to be as high as those abroad, but for her, these considerations are insignificant when compared to an opportunity to give something back to the people.
Idlib University Hospital
Some of these University students will play a crucial role in a recovering health sector that was at some point on the verge of collapse following a merciless bombing campaign by the regime. In 2020, Idlib University took an important step when it established the University Hospital to address the acute staff shortage in this vital field. The hope is that students will have an opportunity to gain the experience they need for their studies while at the same time supporting this understaffed sector.
"The hospital is ready to serve people suffering from various medical conditions. We also provide outpatient care for those treated by other hospitals," explained the Chancellor of the University.
The hospital director, Dr. Ahmed al-Jarak, spoke about how far they have come. "the hospital has successfully prepared four clinic rooms, an intensive care unit with 15 beds, and six operating rooms."
The hospital has a number of medical divisions, including orthopedic surgery, general surgery, internal medicine, gynecology, cardiology, and pediatrics. In addition, it houses a diagnostic and radiological imaging unit – the only one in the liberated areas.
As for the students, the significance of the hospital lies in providing a place where they can interact with qualified medical staff as they go about their work. This kind of practical work experience is indispensable, especially in clinical applications, where practical knowledge is just as important as the theoretical.
The establishment of the Idlib University Hospital is considered a positive step towards academic accreditation regionally and globally. It is hoped that with the assistance and support of the international community, it can help support the health services depended on by a population of no less than four million.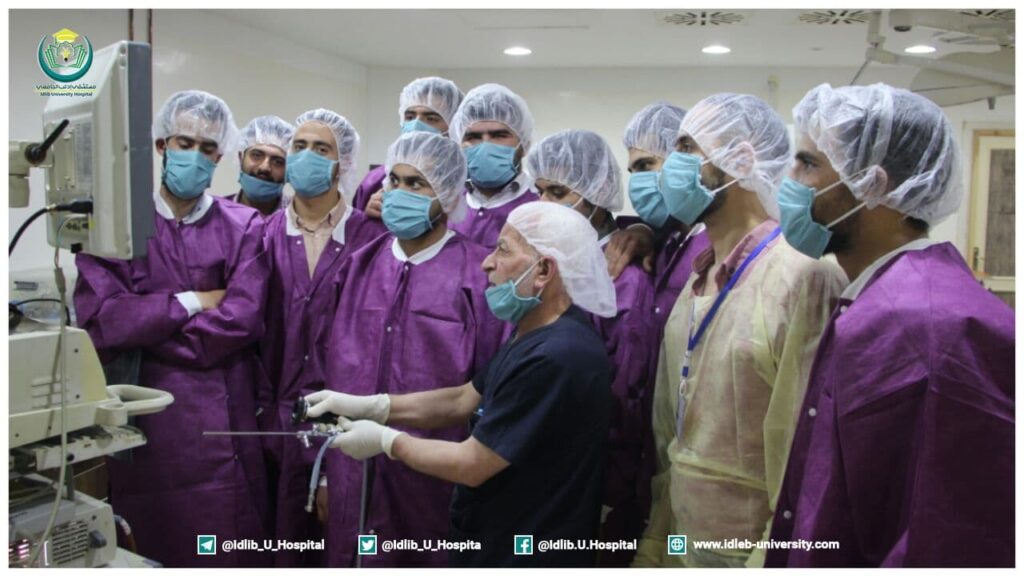 Medical training conducted on the endoscopy device at Idlib University Hospital. May 2021
A Glimmer of Hope
During the academic year 2020-2021, 27 students from the University of Idlib have gone abroad to Turkish universities to continue their higher education, while 18 Masters and 5 PhD thesis were discussed at the university.
There undoubtedly still remains a long journey ahead before Idlib University can reach its ultimate goals, but assisted by the unbounding energy of its students and the determination of its staff, the goal now seems well within sight. It has been recognized by a number of Turkish universities, Idlib university hopes that in the near future it will also get recognition from other international universities in Europe and the United States.
The University represents a beacon of hope for the next generation, on whose shoulders will be placed a great responsibility; to deliver the fruits of this revolution and to demonstrate that it cannot only survive, but indeed prosper and thrive.