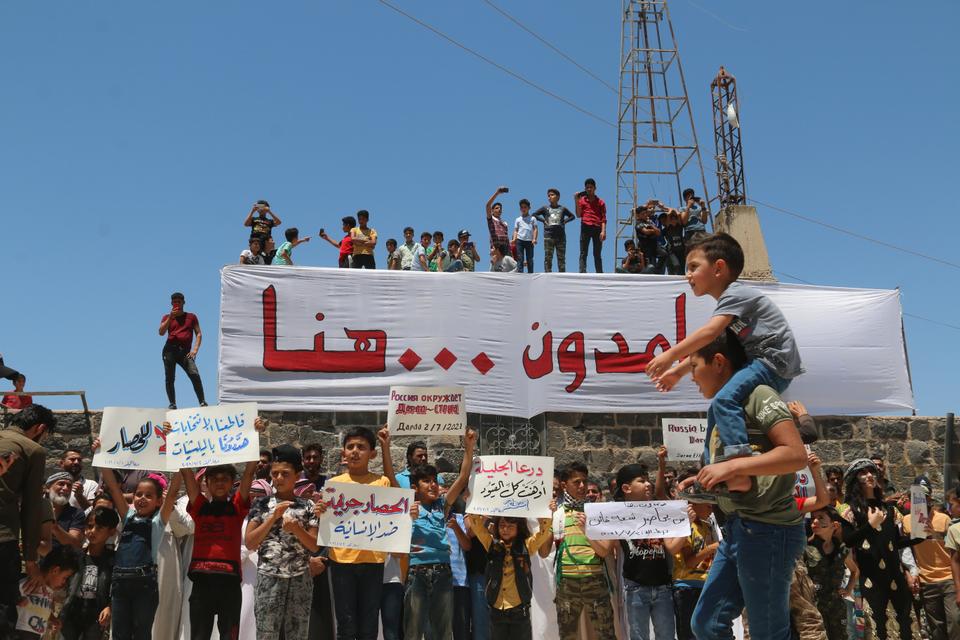 Houran Free League reported that – three days ago, forces from the Fourth Division and Military Security Branch besieged a large number of families in their homes located in the plains surrounding the areas of Gharz, Daraa Al-Balad, al-Sad Road and Daraa camp, preventing any movements in and out of the areas.
On Friday evening all communications were cut off with a number of families, noting that the majority of them were children, women and the elderly. This may lead to a humanitarian catastrophe if the regime forces continue to besiege them.
Sources to Houran Free League confirmed that the regime forces are besieging families in Tal al-Sultan, Gharz, the Gharz-Daraa road, al-Nakhla, east of Daraa dam, south of Daraa, al-Shiyah – inhabited by about 100 families – al-Khashabi area, Daraa al-Balad.
Meanwhile, hundreds of displaced families from the neighborhoods of Daraa al-Balad to Daraa city center are subjected to harassment by members of the Fourth Division and Military Security Branch, in addition to security checks and prosecutions for those who have run away from military services.
On the 1st of August, an emergency meeting took place between the Russians and the rebels, which lead to a temporary truce deal after several negotiations. However, this was cut short the next day, as clashes resumed between opposing sides with the regime forces trying to infiltrate into several areas of Daraa al-Balad, so far, being unable to break in.
A Unit from the Fourth Division continues to besiege about 250 families in Shiyah near Daraa for five days, depriving them of water, food and medicine. Sources have claimed that al-Ghaith forces assaulted the people by beating and harassing them, in addition to confiscating their phones and preventing patients from reaching hospitals.
Activists have warned about a humanitarian disaster and called on humanitarian and international organizations to intervene and help reach out to these families and provide them with the necessary assistance and transfer them to a safe place.
Since the 28th of July, heavy clashes have been ongoing between the rebels, who are residents of the areas of Daraa, and the regime forces with rebel forces quickly gaining ground. During this period, negotiations have continued between both sides with no positive outcome yet. All peaceful solutions have ended up swiftly with the regime forces unable to abide by them. This comes in conjunction with heavy military reinforcements arriving for the regime forces from different parts of Syria.