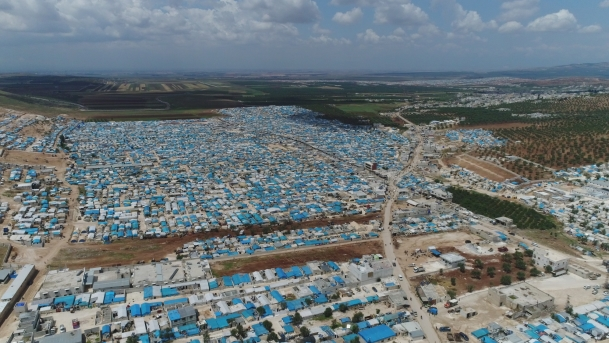 Directorate of Humanitarian Affairs in Sarmada continued to supervise the distribution of humanitarian aid by relief organizations to the displaced families in various camps. This was aimed to ensure that all aid reaches those entitled to it.
The director of the relief department in the area, Mr. Muhammad Akkawi, said "We supervised the distribution of 77 packs of bread to the organizations in al-Walah camp Babila, 310 in Mardabssa, 184 in Hajar al-Barakli, 520 in Aleppo Hills, and 90 in al-Bashir in al-Bardaqli."
He added, "We also followed up the distribution of 176 packs in Bassams camp, 365 in the Dignity Martyrs and 113 in Arnabeh in Kafr Losin."
Akkawi mentioned that the directorate supervised the distribution (by charity organizations) of 111 food packages in Darayya camp, 246 in Naseem al-Rahma, 42 in Shumariya, in addition to distributing 71 packets of soap in al-Amal camp in Bardaqli and 250 in Tuba.
According to the Directorate of Humanitarian Affairs, they have been striving hard to provide relief assistance to all the IDPs and to help them in every aspect possible to make life easy for them during tough times.