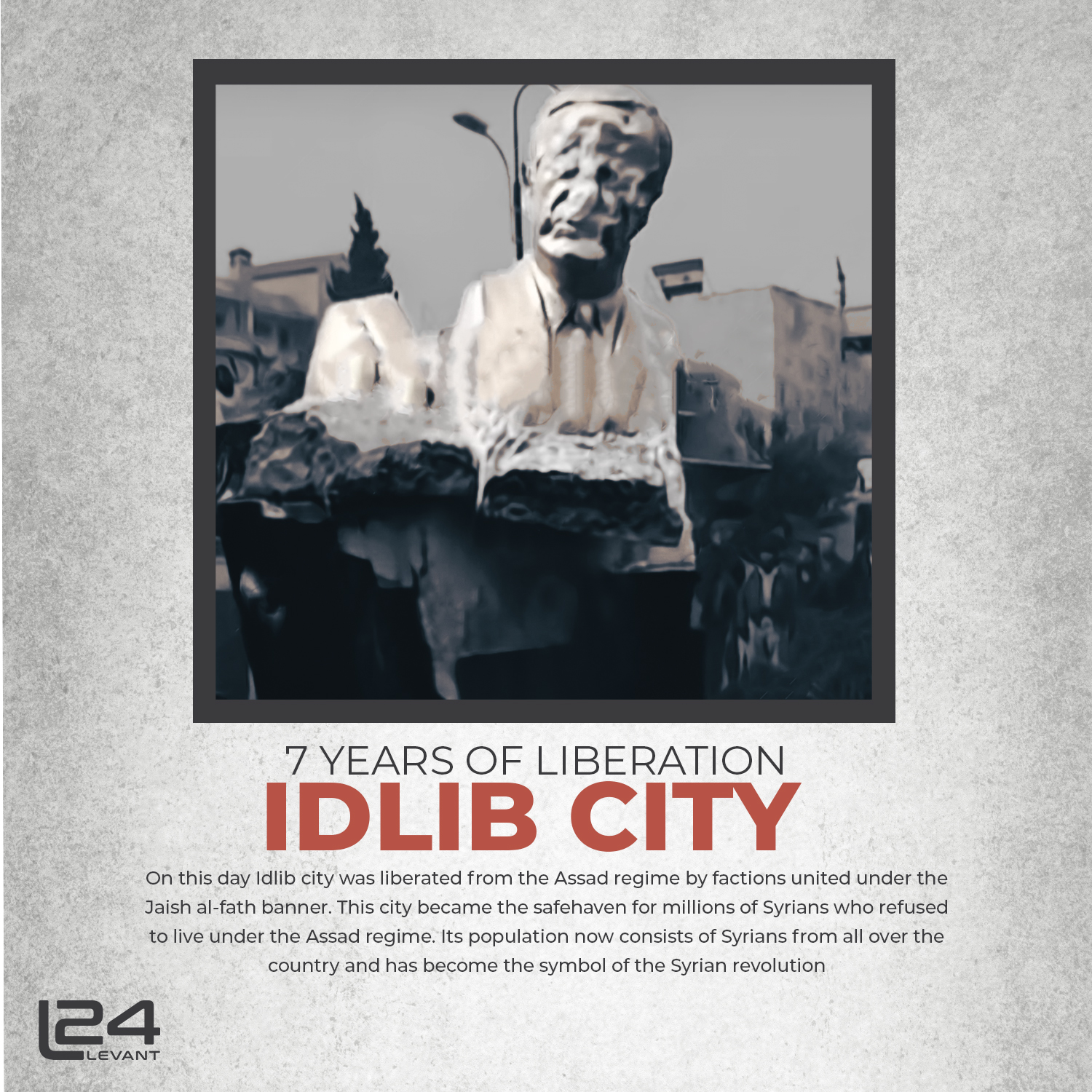 Since the liberation of Idlib City on the 28th March 2015, the location and its inhabitants have experienced several tides, of good times as well as bad. Today marks the seventh anniversary of its liberation from the clutches of the Assad Regime.
Four days is all it took to liberate the city which has become the de facto capital of the revolution. All the military factions joined together to form the 'Army of Conquest' Operations Room for the "Battle of Idlib".
The military factions almost surrounded the regime forces before they retreated and evacuated the city by the third day of the battle, leaving only loyalists working with Assad to try to defend themselves.
This became the gateway for the revolutionary factions to push forward towards the north and western side, as many villages including Ariha, Mastuma, Jisr al-Shogour, were soon to follow.
Local from the city, Ahmed Ghajar, mentioned to L24 about how life used to be under the regime.
Idlib is well known to be the city ignored by Assad and a place that despised him for generations and when it was under his control the locals were deprived of many things.
Daily necessities, such as water and electricity, that any government should provide, were not given to the people, enough to fulfill their minimum requirements. Bread, which is an important part of the staple food for the Syrians, would be monopolized and given to members of the regime.
Before Idlib's liberation, it was besieged by regime forces and no one was allowed to leave or enter the city without passing through their checkpoints, where they would harass the men and women. They mention that the security status was horrific as they did not feel safe leaving their homes during the evenings or nights.
Looking back at the past, the sources compare it to after it had been freed from the regime and how life has gradually stepped forward towards improvement.
Electricity, water, bread, education, public transportation – to name a few of the services that are available to them currently. But one of the greatest achievements is the security in the city. Years have passed and the amount of crimes have drastically deteriorated – in terms of explosions, assassins or murder.
As the month of Ramadan fast approaches, they recall how the feeling of festivity during this month has returned and even though with all the daily struggles the Syrians face, they face it together as all of Syria who have rejected the Assad Regime have chosen to be here.
Hussam Tarsha, another local, stated that now they can work freely without restrictions and harassment. Moreover, the youth are encouraged to educate themselves at all levels and to work towards building a better future for a city "marginalized by Assad".
One point that all sources mentioned was about the relief they felt when they were finally free from being under "the regime that did not care for its people".