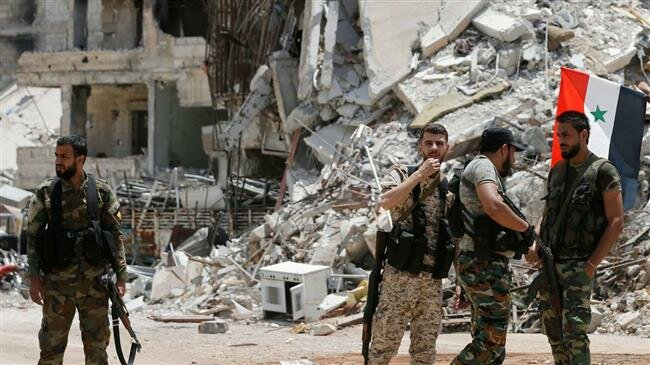 Monday, several regime members, as well as civilians, were killed and wounded as a result of assassination operations that occurred in separate regions across Daraa, in southern Syria, in light of a major security chaos in the province.
Assem al-Zoubi, director of the Violations Documentation Office in the Ahrar Houran League, said during an interview with al-Araby al-Jadeed: "An assistant from the 9th Division, Muhammad Fida Sultan al-Wadi, was killed on Monday evening, while returning from work, by unidentified gunmen, after he was targeted near the town of Aqraba in the northern countryside of the province".
Al-Zoubi mentioned that other members from the regime were also targeted and wounded by unknown assailants on the Damascus – Daraa international road, in the location between the city of Izraa and the town of Namer, east of the province.
He stressed that Daraa is experiencing a state of organized chaos, professionally managed by the security services of the regime.
Moreover, he added: "As for the assassinations, they are carried out by local security units who have great experience with the geography of the locations of the operations, so we can notice that no perpetrator has been arrested so far. As for the murdered (regime) officer, his assassination is normal in this chaotic circumstance, regardless of the executing party".
"The first quarter of the year (2022) witnessed 88 operations and assassination attempts in Daraa, which killed 68 and injured 30, while 13 survived (the attacks)", he said.
Al-Zoubi mentioned that five pharmacies were also attacked, apparently by the regime's security forces, as a result of their refusal to sell some narcotic drugs to the latter without prescriptions and agreeing to sell and promote narcotics.
According to him, the regime's security, especially those backed by Iran, are seeking to involve all pharmacies in selling (illegal) drugs in order to expand their trade in the region and make it easy for the youth accessing and abusing them.