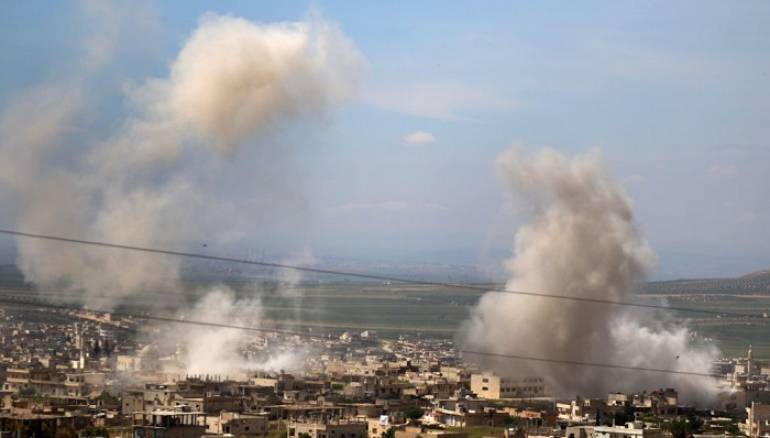 Yesterday, regime forces renewed bombarding the region of Jabal al-Zawiya, which coincided with the arrival of Turkish Armed Forces to Tal Abyad in the countryside of Raqqa. This was after Russian forces had arrived to Tal Tamar in Hasaka countryside at the contact lines between the SDF and the Syrian National Army.
Activist Mustafa al-Mohammed mentioned to al-Araby al-Jadeed that the regime targeted the axes of Kansafra, al-Bara and al-Bureij in Jabal Al-Zawiya, southern Idlib countryside.
While there were no reports of casualties from the bombardment, the activist confirmed that Russian warplanes had been hovering around the region since early morning, without carrying out airstrikes.
Sources claimed that several armored vehicles carrying Russian flags arrived on Tuesday at Tal Tamar, where they entered SDF headquarters to hold meetings with the latter.
They added that this coincided with new reinforcements for Turkish forces entering Tal Abyad in the countryside of Raqqa, which headed towards the Turkish base near the M4 highway.
The sources also indicated that Turkey periodically reinforces its forces in Tal Abyad and sometimes replaces existing forces with others, similar to what they are doing in Jabal al-Zawiya.
The contact lines in northern Syria have been witnessing continuous tension and developments, gradually escalating against the backdrop of Turkish statements about launching military operations in northern Syria against the SDF.
The SDF also announced its readiness to confront any potential operation and its willingness to cooperate with Russia and the Assad regime in order to repel the possible offensive.