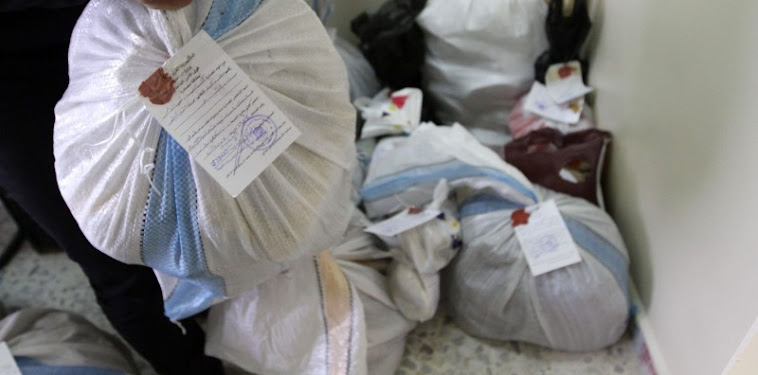 Ahmad al-Hayek, a teacher in one of the schools in the western countryside of Daraa, spoke to the Nedaa Post news agency: "Drug use is no longer a secret in Daraa after it reached schools, and this is what constitutes the greatest danger to the structure of Syrian society."
"Drug dealers have found their way, taking advantage of the security chaos that covers the province," he said.
Al-Hayek added: "Cases of narcotic pills that were distributed by individuals linked to Hezbollah among adolescents, male and female, have been caught red-handed in several schools. They have been taking advantage of the difficult economic crisis that some of the student's families face, which causes them to promote and sell these drugs among their colleagues."
Moreover, a social worker in a school named Sami Aiyash said: "The drug trade is spreading widely in all areas of the province (of Daraa). In the past, it was very secretive and distributed at night to drug users, but today it is distributed and sold openly."
Aiyash pointed out that "it stems from hotbeds of promoters supported by the Syrian regime's security services, but the most dangerous of them are those that are now promoting students in schools without any deterrent or party to file a complaint."
The principal of a secondary school for boys, Alaa al-Qiblawi, commented on the situation saying: "Many teachers in the school noticed the excessive activity and strange behavior of some students and informed me."
Narcotic substances are spread in Daraa in various types, including marijuana and Captagon pills, crystal meth and cocaine.
Despite their high prices, they are popular and widespread, as they are obtained by promoters supported by special groups working for the Lebanese Hezbollah in Daraa.
The other promoters are under the supervision of officers in the Fourth Division and the regime's security apparatus, foremost of which is the Military Security Branch.
The security branch is headed by Brigadier General Luay al-Ali who engineers the sale and distribution of drugs, activates their promotion in the province, and collects and exports them to neighboring countries, especially Jordan, according to reports.
Over the years, Daraa has become a center for the manufacture, trade and promotion of such illegal drugs, and its abuse has only added to the catastrophic security turmoil there.