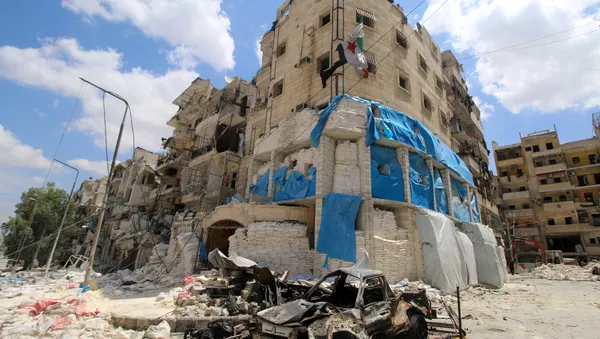 The Doctors Without Borders medical organization has called for an urgent increase in humanitarian supplies to the northwestern regions of Syria, stressing that the volume received does not fulfill the needs caused by the earthquake.
The organization said in a statement: "In the ten days following the earthquake, the number of trucks that crossed into northwest Syria was less than its weekly average in 2022."
According to Agence France Presse, on Sunday, 14 trucks belonging to the Doctors Without Borders, loaded with 1,269 tents and winter supplies, entered for the recent IDP, through the Hammam crossing in Afrin in the northern countryside of Aleppo.
The agency quoted the chairman of the organization's mission to Syria, Hakim Khalidi, saying, "We emptied our emergency stocks within three days, but we did not see any external support. The aid is coming in small quantities at the moment."
The organization has already spent its stocks in Idlib after the earthquake, by providing about 12 tons and four thousand cubic meters of surgical equipment and medicine to Idlib hospitals.
In its statement, the organization stated that in 2022 alone, 7,566 trucks loaded with aid crossed from Turkey into northwestern Syria, an average of 145 trucks per week.
Meanwhile, activists and media professionals in northwestern Syria, in cooperation with the Free Termanin Coordination Committee, protested denouncing the failure of the United Nations to help the earthquake victims.
A few days ago, a number of Syrians in the city of Sarmada, which is near the Syrian border with Turkey, painted murals criticizing the inaction of the UN.
Activists hung the flags of the UN backwards, drew images, and wrote on the destroyed buildings expressing their dismay.
In turn, the United Nations agency admitted its negligence, noting that it had failed more than five million civilians residing in northwestern Syria, following the devastating earthquake that struck the region two weeks ago.
"We have failed the people of northwestern Syria, and they are right to feel abandoned," said UN Under-Secretary-General for Humanitarian Affairs Martin Griffiths.
At the peak of the incident when it took place, the United Nations did not respond to the distress calls made by the Syrians, humanitarian organizations and rescue teams. Reports suggest that the amount of aid entering the liberated areas can merely serve the needs.