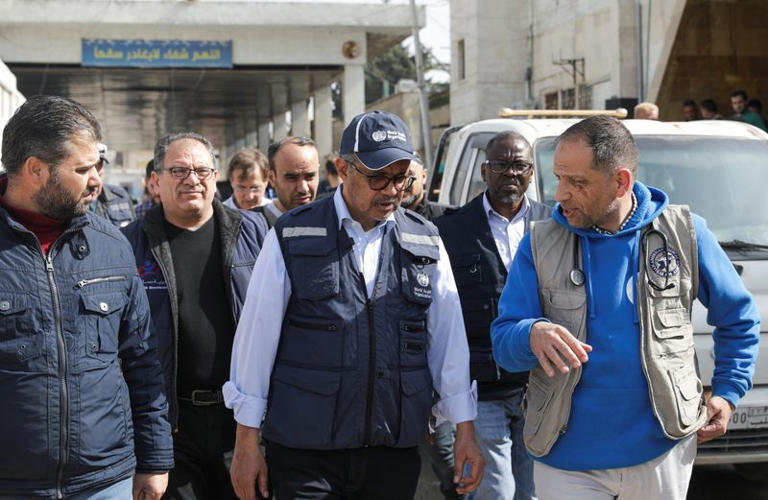 Last Wednesday, the Director General of the World Health Organization, Tedros Adhanom Ghebreyesus, visited several hospitals in northwestern Syria. Since the devastating earthquake over three weeks ago, this was the first time a high-ranking UN official visited the liberated areas.
Ghebreyesus arrived in Idlib and examined three hospitals in the towns of Bab al-Hawa, Aqrabat, and Sarmada, and an earthquake shelter in the town of Kafrlosin, in northern Idlib.
"I have rarely been so disturbed and heartbroken," he said, speaking later at a media briefing.
The WHO director-general added: "I call on the leaders of both sides of the Syrian conflict to use the shared suffering of this crisis as a platform for peace."
The Director of the World Health Organization, Dr. Tidros Jemerisius, and members of organizations from Europe, the Middle East, and Turkey, visited the Bab al-Hawa Hospital, supported by SAMS. SAMS is a global medical relief organization that is working on the frontlines of crisis relief in Syria and elsewhere providing medical care.
The delegation met with Dr. Bashir Taj Al-Din, director of SAMS in Turkey, and the medical and administrative staff in the hospital. They held a meeting with medical organizations working in northern Syria and the Idlib Health Directorate.
According to reports, the Idlib Health Directorate explained the dire medical situation and the delay in the international response, and the slow arrival of medical and humanitarian aid were all discussed in the meetings.
He mentioned that the delegation also discussed the urgent need to deal with the entry of aid to the liberated areas without any association with politics "or anything else", and a permanent solution must be implemented.
A few days ago, the WHO announced its documentation of seven healthcare facilities and seven hospitals in the north of Syria were affected as a result of the earthquake.
"The Syrians believe that the earthquake is the easiest of the two evils. It is another evil, but it is less evil compared to the years of war, and not only that: displacement and economic collapse," he added.
Rick Brennan, the director of the regional emergency department of the Mediterranean, after returning from northern Syria, stressed the great need for medicines and vaccines in Syria, as well as vital equipment, such as X-ray devices and surgical tools.
The UN official explained that global health has already started to seek equipment and supplies, and works with United Nations partners on a collective approach to benefit from the temporary suspension period of the sanctions imposed on the Syrian regime after the earthquake.
The World Health Organization appealed to collect $84.5 million to meet the health needs after the earthquake in Syria and Turkey.
It said in a statement: "The initial appeal is dealing with the health situation in the two countries after this humanitarian catastrophe and the main health threats."