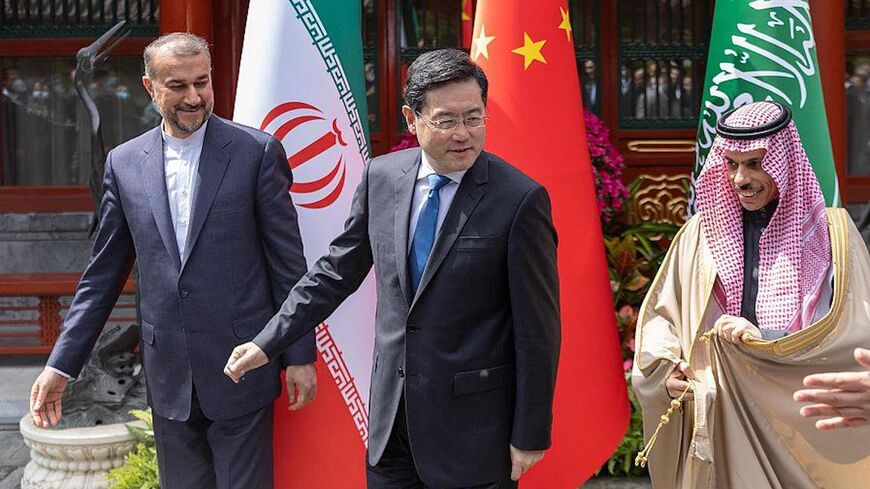 A senior leader of Hayat Tahrir al-Sham (HTS), Abu Maria al-Qahtani, has criticized the recent tripartite statement between Iran, Saudi Arabia, and China, which announced the resumption of relations and a commitment to enhancing regional and international peace and security. The statement followed secret talks between Iran and Saudi Arabia hosted by China, which have since led to a Saudi delegation arriving in Tehran to discuss the reopening of embassies.
Al-Qahtani took to his official Twitter account to comment on the issue, expressing concern about the reliance on China, Iran, and Russia for victory, which he described as a personal motive. He highlighted China's treatment of Uyghur Muslims, stating that China prevents them from praying and forces them to abandon their religion, adding that Iran would move the Kaaba to Karbala and China would treat the entire Islamic world like the Uyghur community if they would have the ability to do it
Sources have reported that the Saudi Foreign Minister, Prince Faisal bin Farhan, and his Iranian counterpart, Hussein Amir Abdullahian, will meet in Beijing to activate the content of the agreement and arrange the exchange of ambassadors. The Saudi-Iranian agreement has the potential to reposition the roles of international players in the Middle East, particularly with the recent emergence of China and its strong return to the international arena.
It is important to note that China's role in the Syrian conflict and its support for the Assad regime has been controversial. Beijing has provided significant financial and military aid to the Syrian government, including the sale of arms and ammunition, and has used its veto power at the United Nations Security Council to block resolutions critical of the Syrian government. Some observers have suggested that China's support for the Syrian government is motivated by a desire to counterbalance Western influence in the Middle East and expand its economic and political influence in the region. However, China has argued that its actions are driven by a desire for stability in the region and the need to protect its own economic interests. Regardless, China's involvement in the Syrian conflict is likely to have significant geopolitical implications in the years ahead, particularly as it continues to expand its presence in the Middle East.