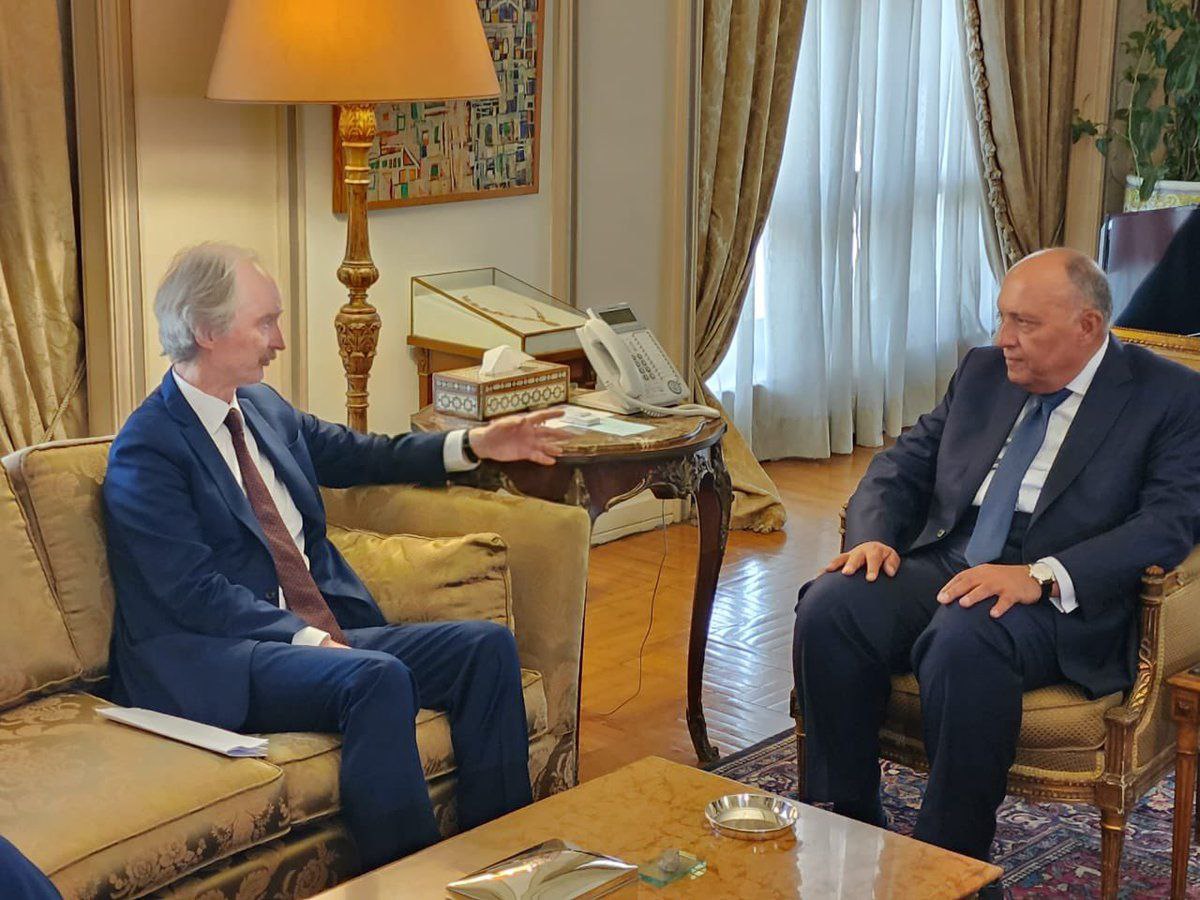 Egyptian Foreign Minister, Sameh Shoukry, held talks with the UN envoy to Syria, Geir Pedersen, on the latest developments regarding the Syrian conflict and the Amman consultative meeting on it.
The Egyptian Ministry of Foreign Affairs said: "Yesterday (Wednesday), Shoukry received a phone call from Pedersen, during which they discussed the next steps in the path of settling the Syrian crisis and the importance of the role of the United Nations and its integration with the efforts and steps taken to end the crisis."
According to the statement, Shoukry "shed light on the conclusions of the Amman meeting of specific measures and steps that were agreed to be implemented to resolve the Syrian crisis in all its aspects, in coordination with the Syrian regime."
For his part, the UN envoy affirmed his "full appreciation for Egypt's firm and positive role in the Syrian crisis, and it was agreed to continue communication and consultation during the coming period to achieve that goal," it added.
On Monday, the Jordanian capital Amman hosted a meeting on Syria, which included the foreign ministers of Saudi Arabia, Egypt, Iraq, Syrian regime and the host country.
After the meeting, the Jordanian Ministry of Foreign Affairs issued a statement saying: "The meeting will constitute the beginning of meetings that will continue to hold talks aimed at reaching a solution to the Syrian crisis, in a manner consistent with Security Council Resolution 2254, and addressing all the consequences of the humanitarian, political and security crisis."
The statement emphasized "the priority of ending the crisis and all that it caused in terms of killing, destruction, destruction, and suffering for the Syrian people, and negative repercussions regionally and internationally. This is to be implemented and achieved through a political solution that preserves Syria's unity, cohesion, and sovereignty, meets the aspirations of its people, ends all forms of terrorism, and contributes to strengthening the appropriate conditions for a voluntary and safe return for refugees."