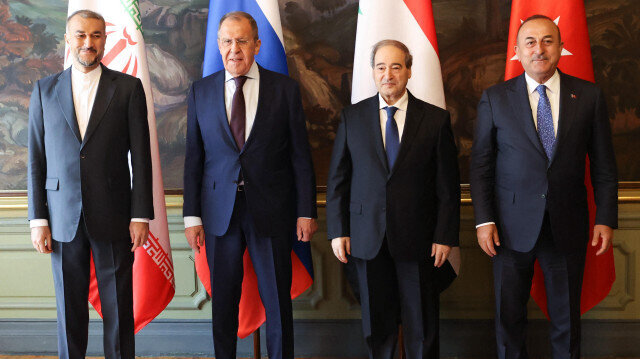 Today, the Russian capital, Moscow, hosted the quadripartite meeting of the foreign ministers of Turkey, Russia, Iran and the Syrian regime, within the framework of the path that Ankara has begun to normalize with Assad.
This meeting is the first official meeting between the foreign ministers of Turkey and the Syrian regime, and the second conversation between the two sides after the one announced by the Turkish foreign minister last August – when he said that he had a "short conversation" with al-Miqdad, on the sidelines of the meeting that took place in the Serbian capital, Belgrade, in October 2021.
The regime's FM insisted on Turkey to withdraw its forces from Syria, and said during the quadripartite meeting that the main goal for his regime is to "end the illegal military presence on Syrian territory, whatever its form, and this, of course, includes Turkish forces."
"Without progress on this issue, we will remain stagnant and will not reach any real results, and we will continue to work, demand, and insist on the issue of withdrawal," he added.
Al-Miqdad stressed, "the need to fight all terrorist organizations on Syrian territory, and eliminate them, as all these organizations pose a threat to Syria and other countries."
Turkish Foreign Minister Mevlüt Çavuşoğlu said that, during the quadrilateral meeting in Moscow, he stated "the necessity of cooperation in combating terrorism, providing the infrastructure for return, advancing the political process and Syria's territorial integrity."
Iranian Foreign Minister Hossein Amir Abdollahian expressed his hope that the Russian-Iranian efforts would be able to have a breakthrough in the relationship between Turkey and the Assad regime.
He considered that "the diplomatic efforts of Tehran and Moscow to prevent military clashes on the Syrian-Turkish border made it possible to start the negotiation process."
He also noted that in the Astana meeting held in Tehran last year, the participants stressed the need to reach a political settlement in the contradictions between Turkey and the regime.
For his part, Russian Foreign Minister, Sergey Lavrov, suggested drawing up a roadmap for normalizing relations between Ankara and Assad, saying: "The best outcome of our meeting today may be to reach an agreement to direct the experts to prepare a draft roadmap for Syrian-Turkish normalization by the time of the next ministerial meeting, provided that it is then submitted to our heads of state."
"This road map should make it possible to clearly define the positions of Turkey and Syria on the issues of priority to them, which means resolving the problem of restoring the regime's control over all the country's regions, ensuring reliable security for the 950-kilometer common border with Turkey, and preventing cross-border attacks," he added.