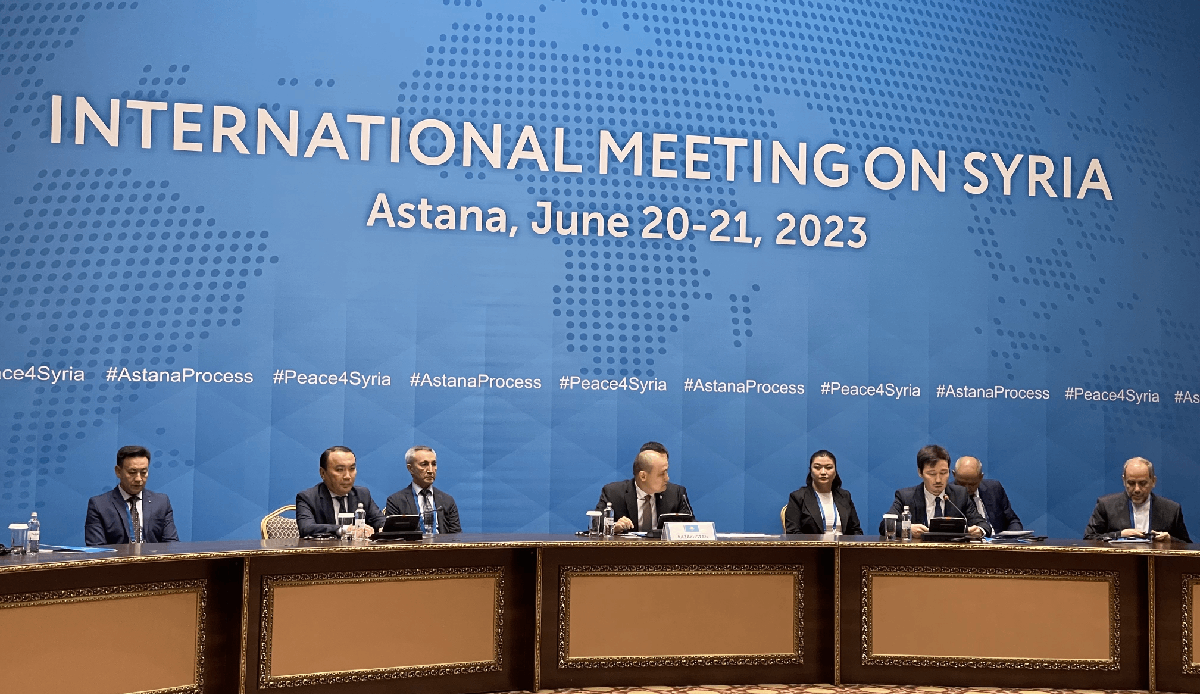 The 20th round of the Astana talks on Syria concluded on Wednesday with the participation of representatives from the opposition, the regime, and the guarantor states. Emphasizing the Astana process's leading role in promoting a solution in Syria, the statement affirmed the continued commitment to Syria's sovereignty, independence, unity, and regional integrity, in accordance with the principles of the United Nations Charter.
The guarantor states stressed the importance of actively normalizing relations between Turkey and the Syrian regime, based on goodwill and neighbourliness to combat terrorism and create suitable conditions for the safe and voluntary return of Syrians. It was agreed to continue working together to combat all forms of terrorism and oppose separatist plans that undermine Syria's sovereignty, safety, and threaten neighbouring countries' national security.
Addressing the situation in the de-escalation zone in Idlib, the statement called for further efforts to ensure sustainable normalization and emphasized the need to maintain calm on the ground by fully implementing current agreements.
Expressing concern about the humanitarian situation in Syria, the guarantor states affirmed the importance of providing and increasing humanitarian assistance in accordance with Security Council Resolution 2672. The statement called on the international community to increase assistance throughout Syria to improve the humanitarian situation and support the progress in the political stability process.
The statement underlined the need to facilitate the safe, dignified, and voluntary return of refugees and displaced persons to their residences in Syria, ensuring their right to return and receive support. It also urged the international community to provide necessary assistance to Syrian refugees and displaced persons, with the guarantor states expressing readiness to collaborate with all stakeholders.
Reaffirming the commitment to the mutual release of detainees and abductees, the statement highlighted the effectiveness and importance of the unique mechanism in building trust between the Syrian parties.
Stressing that there is no military solution to the situation in Syria, the guarantor states reiterated their commitment to promoting a viable and long-term political process led and implemented by Syrians, with the assistance of the United Nations and in accordance with Security Council Resolution 2254. The statement emphasized the important role of the Syrian Constitutional Committee, established with the guarantor states' contribution, in enhancing the political settlement process, calling for the early holding of its ninth session.
Regarding the situation in eastern Euphrates, participants agreed that preserving Syria's sovereignty and integrity is essential for achieving security and stability in the region. They rejected any attempts to create new facts on the ground, including illegal initiatives for self-rule under the pretext of combating terrorism. Additionally, the participants reiterated their opposition to the unlawful seizure and transfer of oil revenues that rightfully belong to Syria.
It is worth mentioning that the Russian envoy to Syria, Alexander Lavrentiev, confirmed in a press statement after the meeting that future rounds will seek an alternative location, as this last round was held in Kazakhstan.