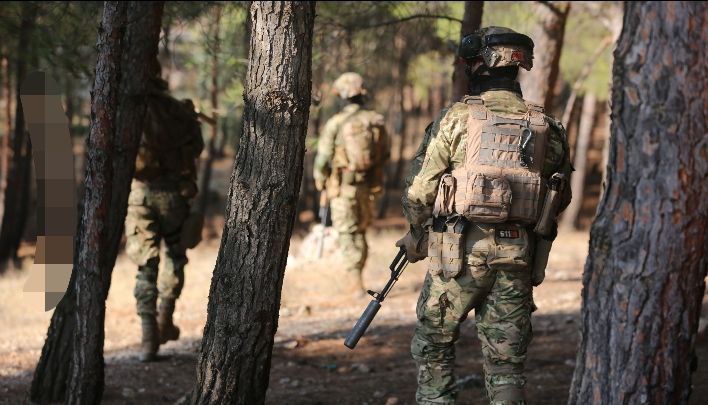 In response to a series of Assad regime and Russian attacks on civilians in northern Syria's Idlib, including one on a produce market last month and culminating in the killing a family of three and injuring half a dozen civilians on Saturday, Hayah Tahrir al-Sham (HTS) directed its elite Red Headbands Unit to carry out a special retaliatory operation behind enemy lines.
Today, August 7, a video statement of HTS military spokesman, Abu Zubair al-Shami, was released wherein he stood among the rubble of the farm destroyed by the Russian airstrike two days prior, which had killed the family living there.
He mentioned the operation struck a high-value command outpost on Mt. Nabi Yunis 12 kilometers along the coast in regime-held Latakia province. The outpost contained the joint operations room for the Fourth Corps and Second and Sixth Divisions, responsible for overseeing and coordinating the military operations from Kassab to Shihshibu in the Latakia theater.
During the operation over 20 officers were killed, including several high-ranking members of Assad's military, along with the destruction of valuable military equipment consisting of electronic warfare suites, reconnaissance and drone control systems, as well as the communications and radio arrays.
The presence of so many officers and the nature of the equipment is a testament to the sensitive and important nature of the site, which was previously believed by the regime to be secure and out of revolutionaries' reach.
In addition to the reports from HTS, media outlets close to the Assad regime have released photographs documenting the dead officers and their funeral services as well as condolence messages shared among regime supporters on various social media platforms.
The Red Headbands, established in 2018 has been at the forefront of HTS special operations and fulfills the role of commandos, often deploying deep behind enemy lines and sending small specially trained elite troops to gather intelligence, conduct hit-and-run raids, sabotage, and conduct attacks against high value, sensitive or difficult to assault targets and locations.
The past few years have seen several similar operations involving quick raids of high-value or strategically important targets by fast and flexible units with small numbers of troops. Such operations come following a restructuring and development of HTS' military, including the evolution of military doctrine and tactics highlighting rapid specialized offensive capabilities as a means to defend one of the last strongholds of the revolution.