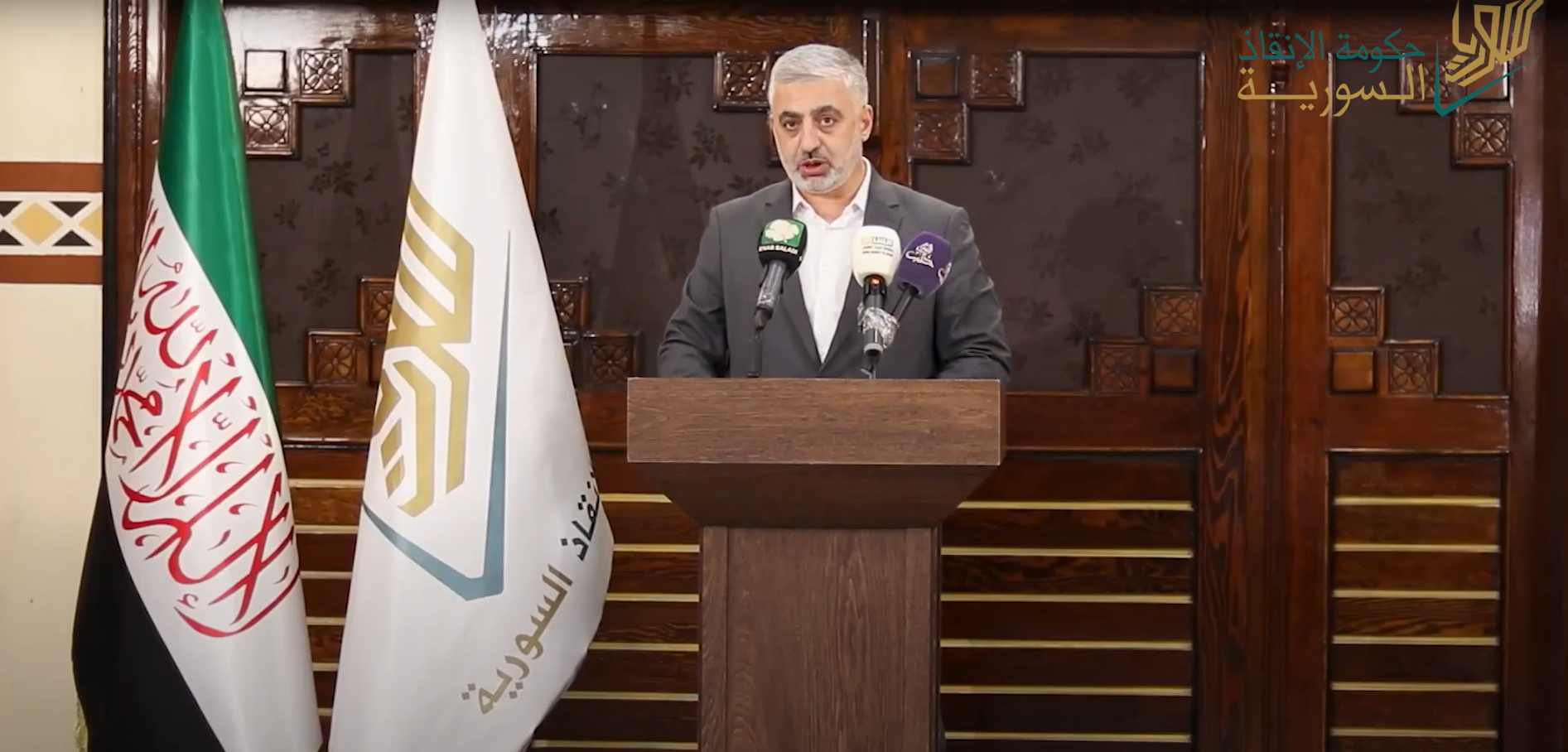 Today, October 9th, 2023, the Syrian Salvation Government (SSG), led by Engineer Prime Minister Ali Kedah, held a press conference addressing several crucial aspects of the ongoing crisis in Syria, shedding light on the government's efforts to manage the situation and maintain the well-being of its citizens amid challenging circumstances.
Prime Minister Kedah said one of the foremost concerns during times of conflict is the healthcare system, and he highlighted the proactive approach taken by the Ministry of Health in response to this crisis along with the suspension of non-emergency clinics and procedures in public hospitals. Reflecting, said Kedah, the government's commitment to allocating resources for emergency cases. He pointed out that by canceling the shift system for pharmacies, the government ensured a consistent supply of medicine and medical essentials for the population, emphasizing its dedication to preserving the health of the people.
According to Kedah, the SSG is not only focused on medical facilities but the welfare of displaced citizens. Teams from the Primary Healthcare Directorate conducted assessments of shelter centers, evaluating the medical conditions there. This initiative, he said, showcases the government's commitment to providing medical aid where it is most needed, demonstrating a dedication to the vulnerable populations affected by the crisis.
He continued, saying that education is a cornerstone of any society, and the SSG recognizes its importance. However, the Ministry of Education suspended attendance at public and private schools and universities in order to safeguard the well-being of students and educators, and Kedah ensured that they would resume once circumstances permit.
The PM mentioned the government's directive to the Public Prosecution to release certain categories of prisoners. Those sentenced to light disciplinary penalties and whoever had served part of their sentences, while retaining their public rights, are eligible for immediate release. This decision, he said, is not only a gesture of goodwill but a pragmatic step to prevent potential exploitation of inmates during displacement.
In addition to civil measures, the government emphasized its commitment to defending its people, and Kedah praised the "heroic efforts" of Syrian revolutionary forces in repelling aggressors by targeting the criminal Assad regime's positions, artillery emplacements, operation rooms, and security centers. The message, he said, was clear: the Syrian people will stand strong and united in the face of adversity.
The Syrian Salvation Government called upon the international community and human rights organizations to acknowledge the grave humanitarian crisis in northern Syria. This allows the world to recognize the atrocities committed against innocent civilians and to assume its moral responsibility for ending their suffering.
Lastly, the government called on the Islamic world to unite and stand in solidarity with the Syrian people, making a heartfelt appeal to leaders and notables of the Islamic community to support the Syrians and condemn the ongoing violence.