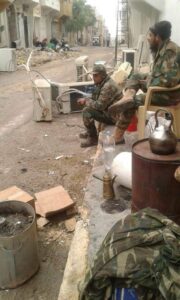 According to The New Arab news outlet, the leadership of the 25th Special Mission Division of the regime requested from its security office to recruit 500 young men to work within its regiments stationed on the Idlib fronts, with a monthly salary of around 100,000 Syrian pounds (about 30 US dollars). The division which was formerly known as the Tiger Forces is led by Brigadier General Suhail Hassan.
The New Arab stated that it had obtained a copy of the contract announced by the division's security office in which the division's leadership set incentives for new recruits and allowing them to extract aluminum, copper, and iron from civilians homes and infrastructure from the cities it occupied early last year, such as Maarat al-Numan, Kafranbel, and other villages and towns in the southeast of Idlib Governorate.
The recruits will receive 10% of whatever they take while the rest is sent to the division's warehouses that are supervised by Colonel Rami Mawas, who is responsible for all the looting and theft operations.
Another incentive for the new members is to work on agricultural lands in the occupied territories during the harvest season in exchange for receiving amounts of pistachios, figs, and olives, in addition to their salary. If the member has experience with agricultural work and knows how to operate farm machinery, they will get a sum of 15, 000 Syrian Pound daily.