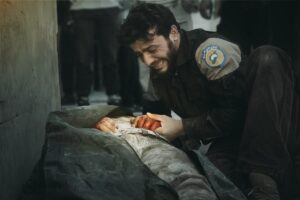 This morning the Syrian regime targeted the Syria Civil Defense (White Helmets) centre in the town of Qastoun in the western countryside of Hama by shelling, killing a volunteer, and injuring three others. According to SCD the centre was put out of service due to damages caused by the attack.
Daham Hussein, a White Helmets volunteer, died during the attack becoming the 290th volunteer to die on duty, since the organisation's founding in 2014.
In a statement posted Syria Civil Defense after the attack condemned it and stated it's clearly a violation of international humanitarian law by targeting humanitarian workers. The organisation also stated that this is not the first time it has been targeted by the regime and Russia.
SCD was nominated for the 2016 Nobel Peace Prize and was a recipient of the 2016 Right Livelihood Award, and has a good reputation inside and outside of Syria. The organisation has been the target of a sustained disinformation campaign by supporters of Assad and Russian state-sponsored media organisations.