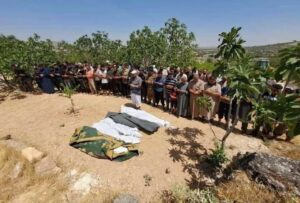 Today the Syrian regime assisted by the Russian forces committed another massacre in Jabal al-Zawiya region. The villages of Iblin, Baylun, and Mashun in southern Idlib were targeted with Krasnopol missiles which resulted in the death of 8 civilians.
Subhi Abdel Hamid Assi, a nurse at Violet Aid Organization and a fourth year Idlib University student, was killed together with his wife and children when his house was targeted.
Omar al-Omar, a White Helmets volunteer from the town of Baylun lost both his daughters, Nour and Iman, when his house was targeted by regime artillery shelling, his wife has suffered injuries in this attack.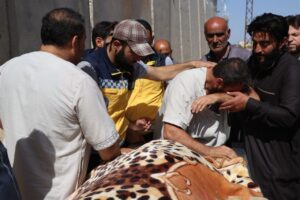 Today Russian planes carried out several attacks, among their targets was the northern Rouge water station. The station was targeted with several missiles which resulted in its total destruction, putting the station out of service. This station, consisting of 10 water pumps, draws water from Ain al-Zarqa spring to irrigate approximately 3,500 hectares of agricultural land in the Rouge plain in western Idlib.
The Russian planes likewise targeted the Syria Civil Defense (the White Helmets) in the village of Sheikh Youssef in the Rouge plain. The center was targeted in four raids resulting in the light injury of 5 volunteers while the building was greatly damaged. The center is currently out of service as a result of these raids.
This is the second time the White Helmets centers have been targeted in less than a month. Previously, on the 19th of June when the center in Qastun was targeted, a volunteer with the organization was killed when the center was hit by the regime's artillery shelling.
The Syrian regime and Russian forces in Syria have stepped up their bombing campaigns of the liberated areas of northern Syria since the beginning of last month.