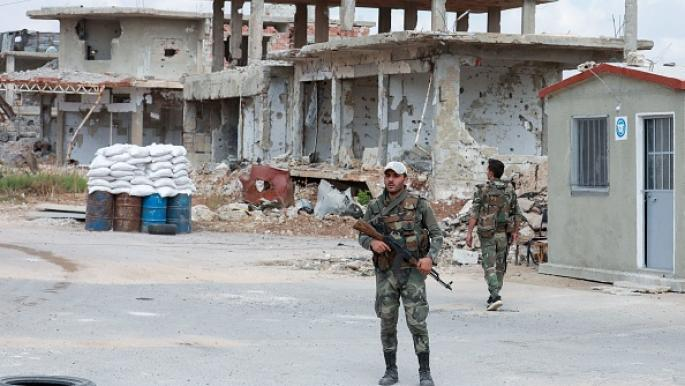 Muhammad Abu Hashish, an activist from Syria mentioned to al-Araby al-Jadeed that regime security forces surrounded the town of Beit Saber, located in the western countryside of Damascus.
Apparently, the incident occurred after a regime checkpoint at the entrance of the town was attacked to free two individuals who had been arrested the day before. The ones arrested were reportedly regime defectors and the ones who attacked were also well acquainted with the regime.
The Free Houran League stated that opposition groups from Quneitra, Daraa, Damascus countryside and Jabal al-Sheikh, announced their support for the people of Beit Saber, threatening the regime with hostility if the siege continued.
They mentioned in a statement calling on the regime to stop "the aggression that the people are being subjected to in terms of arrests and dismemberment'.
After several military confrontations with opposition factions, which ended with displacing those, who refused to reconcile, to northern Syria. Beit Saber was one of the areas where a large number of ex-opposition fighters remained after reconciliation in 2018.
A few days ago, the regime authorities disposed of large numbers of identification and security files, by burning them on the outskirts of the city of Moadamiya al-Sham in the western Damascus countryside.
Sout al-Asima agency stated that security patrols came to the police department present there with huge quantities of papers and files and burned them outside the building. Sources claim these were files concerning detainees that were tortured or killed in the regime's prisons.