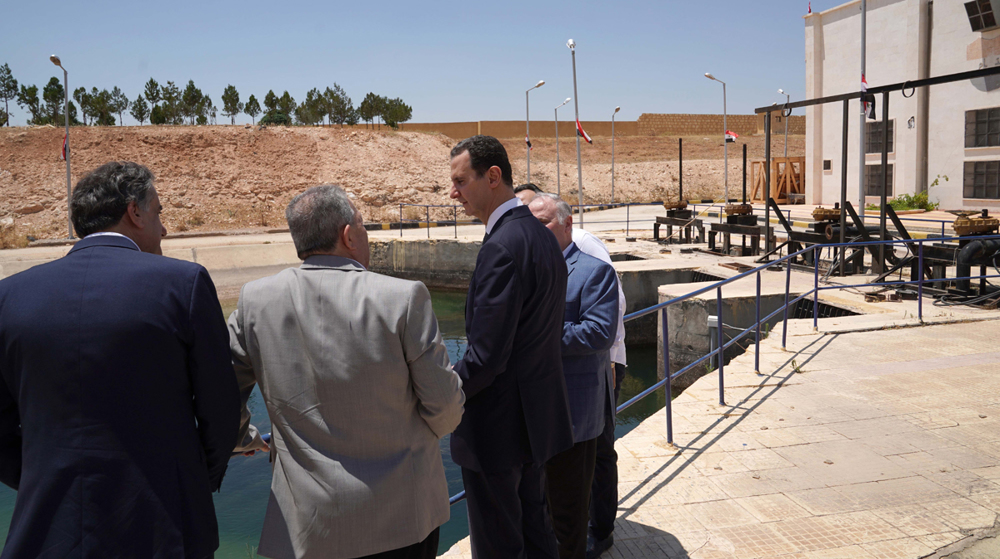 On Friday, Bashar al-Assad visited the thermal plant in the eastern countryside of Aleppo where he witnessed the launching of the fifth group of the plant after its rehabilitation, which will generate 200 megawatts to power the province of Aleppo, according to regime officials.
Assad's visit to the city of Aleppo is the first since the outbreak of the Syrian revolution and after the Russian military police had taken charge of the city after recapturing it from opposition forces in 2016 where they requested the regime not to enter the city with force, according to what was said at the time.
In his speech at the power plant, Assad lied about the one responsible for destroying the station and for its rehabilitation. He claimed that terrorist organizations (ISIS) had destroyed and looted the station.
However, the facts indicate that the regime was primarily responsible for destroying it and rendering it out of service, after its warplanes bombed and destroyed the station in 2015 when it was under the control of ISIS.
Assad's second lie was his claim to rehabilitate the station with local efforts and that the Iranian company MBNA lied to him by claiming its responsibility for the station's rehabilitation.
He described the station's staff as "sons of the field", and expressed pride in their efforts that led to its re-launching. He added that Aleppo had suffered more than other provinces as a result of terrorism and sabotage, and therefore the people of city have the right to be the "one's to benefit the most" from the power station.
Nevertheless, on the 25th of June, the Iranian MBNA Company announced the completion of the rehabilitation work for the fifth group of the thermal power station in Aleppo, through the (Iranian Cultural Chancellery – Syria) account on Facebook.