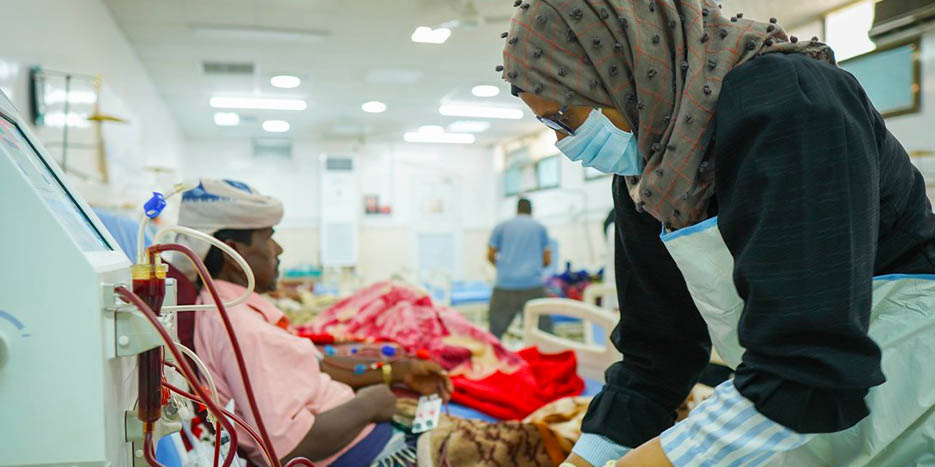 Today, the Health Directorate in Idlib warned of 56 health facilities, in northwestern Syria edging towards suspension in case the mechanism to delivery aid through Bab al-Hawa is not extended during the UN meeting this month.
The directorate mentioned in a statement that the medical staff and the people in northwestern Syria are deeply concerned about the Russian threats to prevent the extension for the entry of humanitarian aid across the borders. The locals are afraid of the catastrophic repercussions that this will have on the health, social and humanitarian levels.
They explained that if the mechanism is not extended, all services will stop at 56 health facilities, including 21 hospitals (half of them are women's and children's hospitals), 21 primary care centers and 14 specialized centers, in addition to the referral and ambulance systems, which will cause a direful health disaster at unprecedented levels, where deceases may spread.
As for the specialized centers that will be suspended there are 14 centers, including 5 centers for the treatment of thalassemia patients, 8 centers for dialysis and one for the treatment of tuberculosis.
These centers serve more than 1550 patients, including 840 thalassemia patients, 510 dialysis patients and more than 200 tuberculosis patients.
The number of free medical services provided by hospitals and health centers in Idlib alone piles up to more than a million and 200 thousand services a month – ranging from 6000 major surgeries, 6000 natural and cesarean deliveries, 556,000 outpatient services and 630 thousand cases of medical intervention, with more than 19,500 cases of admission (of patients) to hospitals.
The Health Directorate added that one of the most important medical services that would stop is the routine vaccination program, as there are 55 vaccination centers in Idlib that provide the necessary vaccines for over 91,000 children annually to protect them from serious diseases such as polio and hepatitis, tuberculosis and measles – which has recently begun to spread significantly in northern Syria. In such cases, vaccination for Covid 19 would also stop.
The directorate called on the permanent members of the Security Council and all active international organizations to "work seriously" to prevent Russia from using its veto against the decision to extend the entry of cross-border aid through Bab al-Hawa, during their meeting this month.
The statement stressed the need to keep the humanitarian file away from political issues and bargains, and not to allow any party to use "life-saving humanitarian aid" as a tool for political blackmail.