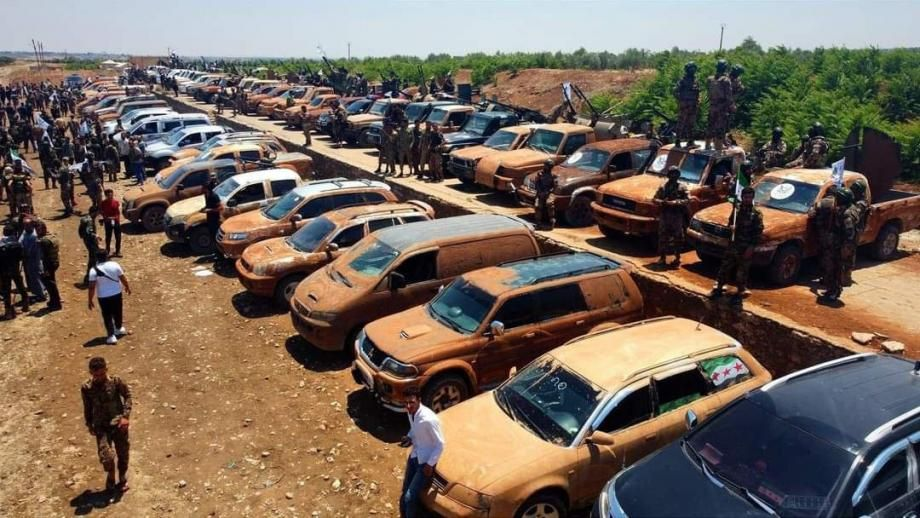 HTS released a statement explaining their stance on the recent clashes between the military factions in the liberated areas of Northern Aleppo and their decision to intervene.
They claimed that they stood by the revolutionary factions in their defense against the Third Corps, which consists of Jaish al-Islam and Jabha Shamia.
According to the statement, they said: "We have repeatedly tried to reach a solution with the Third Corps regarding military and security coordination in the region in order to protect the civilians and organize the military institutions away from the civil ones."
"There are dubious relations between the Third Corps and foreign parties hostile to the revolution. As a reference to the recent events, the Third Corps attempted to carry out military attacks against the factions of the Syrian National Army in order to take over regions and expand their influence," they added.
However, the Director of the Media Office of the Third Corps, Siraj al-Din al-Omar, commented on the HTS statement saying: "The latest statement is full of contradictions. On one hand, they say that an agreement has been reached. On the other, they accuse the Third Corps of coordinating with hostile parties, while HTS, in its attack on the Third Corps, used Abu Amsha, against whom a court ruling was issued, and al-Hamzah Brigade, which sheltered and protected the killers of Abu Ghannoum."
Last week, al-Hamzah Brigade claimed in a statement its readiness to hand over the perpetrators of Abu Ghannoum and his wife's murder, and reports emerged that the culprits were arrested by the authorities after cooperation with the group.
Afterward, clashes broke out between military factions from the Syrian National Army, with the Third Corps reportedly attacking al-Hamzah Brigade. After days of hostilities, a fragile truce had been agreed upon between the opposing sides which the Third Corps renounced and deleted from their social media accounts shortly after posting it.