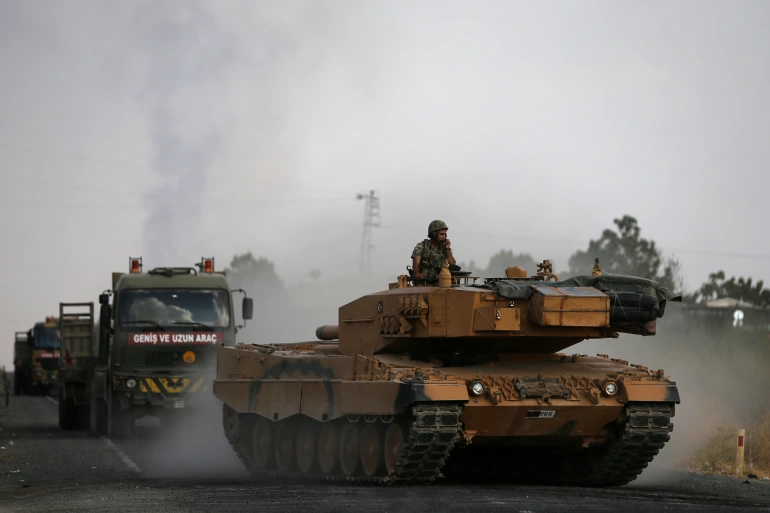 Turkish President Recep Tayyip Erdoğan confirmed that his country is determined to establish a 30 kilometers deep safe-zone to protect its southern borders with Syria and Iraq.
Erdoğan said in a speech after a meeting, yesterday: "We should not worry about Turkey's military operations aimed at expanding the security on its southern border."
He stressed that "just as Turkey does not ask permission from anyone when it takes steps concerning the security of its lands and its people, it also does not accept accountability from anyone. No one will be able to force Turkey into positions that contradict its interests through hollow threats."
The Turkish president pledged to "completely eliminate the terrorist organization (SDF) that killed a young teacher and a child in its attack on Qarqimish, and to fight it until the last terrorist of its elements is neutralized".
Turkey announced through senior officials that it intends to carry out a ground military operation against the SDF in northern Syria, in response to the Istanbul bombing and the missile attacks targeting border cities and towns.
According to Al-Jazeera, official Turkish sources mentioned: "The Russian side is making efforts to meet Ankara's demands in northern Syria instead of a military operation. Ankara demanded the withdrawal of the Syrian Democratic Forces from Manbij, Ayn al-Arab and Tal Rifaat."
"Turkey stipulated that the Syrian Regime replace the SDF and has given a deadline to meet its conditions, otherwise it will go forward with the military operation," the source added.