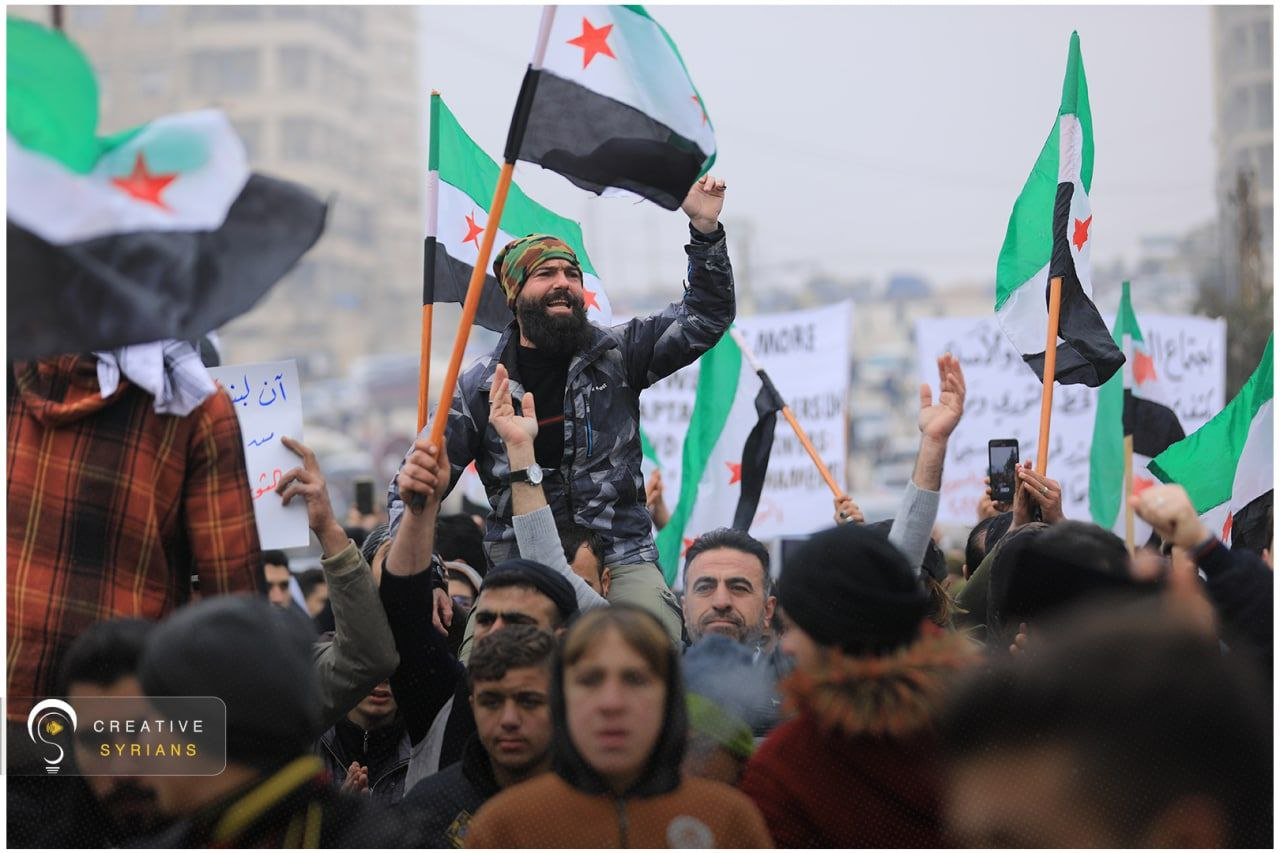 Yesterday, thousands of residents of northern Syria staged massive demonstrations after the Friday prayers, calling for the overthrow of Assad, rejecting reconciliation with the regime, and denouncing the Turkish rapprochement with it.
Demonstrations took place in the cities of Idlib, al-Dana and Atmah in the northern countryside, as well as in Darat Izza and al-Atareb in the western countryside of Aleppo.
Moreover, thousands of Syrians went out to protest against the latest developments, in the cities of Afrin and Rajo, Azaz, Akhtarin, Dabiq, Marea, al-Rai, al-Bab and Jarablus, and Tal Abyad in the northern countryside of Raqqa.
The demonstrators chanted slogans emphasizing adherence to the Syrian revolution and its principles, foremost of which is the overthrow of the Assad regime, where they said: "Old and young, we know that he is in favor of a murderer and a traitor. If you (Turkey) want reconciliation, go and reconcile with the Kurds (PKK)."
These demonstrations came in response to the Turkish position and the accelerating rapprochement with the Syrian regime, and the calls made by Turkish officials to the Syrians to reconcile with Assad.
A young man from the town of Dabiq in the countryside of Aleppo urged the Syrians to adhere to their revolution by reciting poetic verses saying: "What is the matter with us today, we have become a funny parable, everyone (the world) laughs except the one in tears (the Syrian people)."
He added, "They tell us to reconcile with the one who has slaughtered us," stressing the people will not accept reconciliation because "the blood of the martyrs (the thousands Assad has killed) is impossible to forget".
According to a report by Habertürk, "No road map has been developed for the issue with the PKK and the return of refugees. However, there are mutual intentions to solve it, and it is likely that the Idlib issue will be the most difficult point between the two parties."
The report indicated that Turkey presented a road map related to the safe return of Syrians to their country, to start next February, but the Syrian regime requested more time.
As the news of reconciliation spreads, the General Security Services arrested a number of regime cells during security raids in Idlib province on Thursday.
Meanwhile, groups of the Fathul Mubeen operations room have stepped up raids and special military operations against the regime. The leaders of the factions mentioned that "this is their answer to any plans for reconciliation and its possibilities, and these operations are only the beginning."