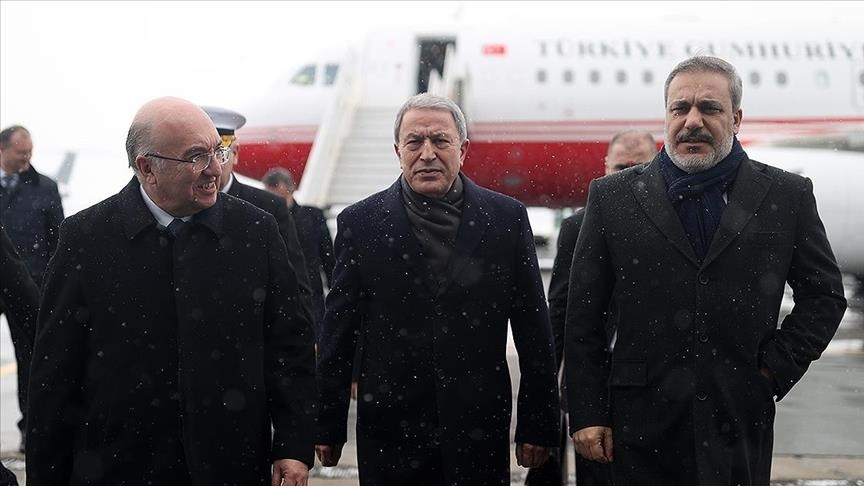 Turkish Defense Minister Hulusi Akar commented on the tripartite meeting that took place yesterday in Moscow, where he met the Russian Minister of Defense and the Minister of Defense of the Assad regime.
The Turkish Ministry of Defense said: "The Turkish-Russian-Syrian meeting in Moscow discussed the Syrian crisis, the refugee problem, and the joint fight against terrorist organizations in Syria."
He described the meeting as "held in a constructive atmosphere," noting that it was agreed upon "to continue the tripartite meetings to ensure and maintain stability in Syria and the region."
Akar said: "The Turkish delegation stressed the necessity of resolving the Syrian crisis, including all parties, in accordance with UN Resolution No. 2254."
He added, "Turkey respects the territorial integrity of Syria and Ankara's goal of fighting terrorism, and through the efforts that will be made in the coming days. Serious contributions can be made to bring about peace and stability in Syria and the region."
"One of the most important issues we raised in our meeting is the fight against terrorism, and our only goal in Syria is to neutralize members of terrorist organizations and provide security on our borders," the Turkish DM said.
Moreover, Akar indicated that during the meeting, the Turkish delegation confirmed that Ankara is making efforts to prevent further displacement migration from Syria to Turkey.
Pro-revolutionary figures have expressed their dissatisfaction with the developments that are taking place. Ahmad Zaydan from Al-Jazeera news agency, said: "Turkey's loss due to its rapprochement with Assad will be strategic, deep and historical. It will, in my view, encroach on Syria to the Arab world, to its position among the Arabs, and to the exceptional sacrifices of its revolution."
Zaydan advised the Turkish people: "Do not bet on a mirage and the illusion of profit that will not come, in return for the loss of huge capital that you earned. Assad will leave and the Syrian people will remain."
Head of the Majlis Sharee (Religious Council) of HTS, Abdur Raheem Attoun, said: "These meetings, whether they are for media attention, to pass a stage, or to represent a trend of the Turkish leadership, we must know that Turkey – basically – does not move except in accordance with its national and national interests, as the rest of the countries."
"Let the Turks move according to what they see of interest, and let us all move according to the interests and priorities of our revolution, not according to the interests, agendas, priorities, or pressure of anyone," he added.
Abdur Razzaq al-Mahdi, a popular Islamic scholar from the liberated areas criticized the Moscow meeting by saying: "This meeting will (surely) be followed by practical steps. If we do not (do anything about it), know that the flags of the criminal regime will fly over the liberated areas."
The scholar called on the leaders of the military factions to state their position publicly regarding the meeting saying "if they didn't, then know that they have surrendered."