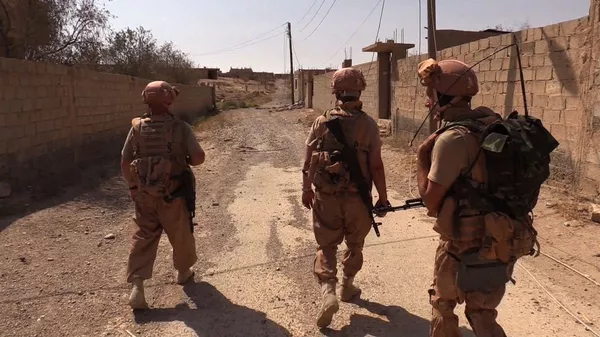 The US Central Command, Centcom, announced in a statement the arrest of two ISIS leaders, after a ground and air operation it carried out in eastern Syria.
The raid and airborne operation targeted a number of civilian homes near the al-Medad School located between the towns of al-Shuhail and al-Zar in the eastern countryside of Deir ez-Zor.
Locals reported that a huge explosion occurred, which was likely caused by a coalition aircraft striking a house after its inhabitants refused to surrender.
They were able to arrest Abdullah Hamed Musleh al-Medad, also known as Abu Hamza al-Suri, and Hussam Hamid al-Suri. One of them is a leader in ISIS, and the other works as a facilitator and mediator for the organization. A third ISIS member named Hashem Al-Hamid al-Musleh managed to escape, according to reports.
During the operation, a civilian was slightly wounded. "The injured civilian was escorted by partner forces to a nearby medical care center with a family member, where he received care and was returned to his family," said Colonel Joe Buccino, a spokesman for the US Central Command.
Buccino stressed that this operation "reaffirms CENTCOM's unwavering commitment to the region and the enduring defeat of ISIS. The arrest of the organization's leaders will disrupt its ability to plot and carry out attacks that threaten regional security and stability."