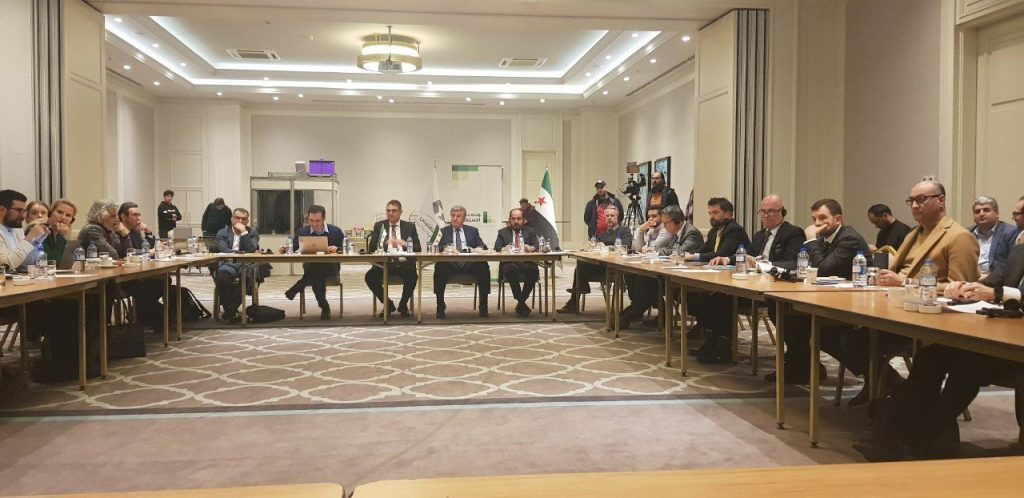 A conference, sponsored by the Stability Support Unit, was held last night in Istanbul, aiming to shed light on the consequences of the devastating earthquake that struck Turkey and Syria on February 6.
The session reviewed the basic and urgent needs and provided the necessary support to the liberated areas affected by the earthquake, where over 4 million people reside. This includes nearly two million IDPs who have been living in tents for years, and who suffer from the harsh conditions of winter in northwestern Syria.
Several local and international organizations, international envoys, and executive bodies also participated in the session. In addition to that, some of the other attendees included the head of the Syrian Negotiation Commission, Badr Jamous, the head of the Syrian National Coalition, Salem al-Muslat, and the head of the Syrian Interim Government, Abd al-Rahman Mustafa, along with the presence of local actors on the ground, such as the Syrian Civil Defense (White Helmets).
Salem al-Muslat thanked all the institutions concerned with helping and supporting the Syrians, such as the Support Coordination Unit, the White Helmets, and the Syrian National Army for the sacrifices they made during this difficult and painful period.
The head of the SNC praised the courage shown by the White Helmets, adding that "the Syrians were truly strong in facing this catastrophe while they were under the rubble, and this is a great courage on their part."
Meanwhile, Badr Jamous briefed on the urgent need to deliver aid to all the Syrians and to contribute to securing the basic needs that the people in northwestern Syria hope to attain.
The head of the Syrian interim government, Abd al-Rahman Mustafa, also indicated that it has managed and supervised the distribution of aid provided by several countries, such as the Kingdom of Saudi Arabia and Qatar, and the tribes from the eastern region.
The conference reviewed a report of data, statistics, and facts for the Syrian Civil Defense and other civilian institutions, and the Stability Support Unit presented a report assessing necessities in northern Syria.