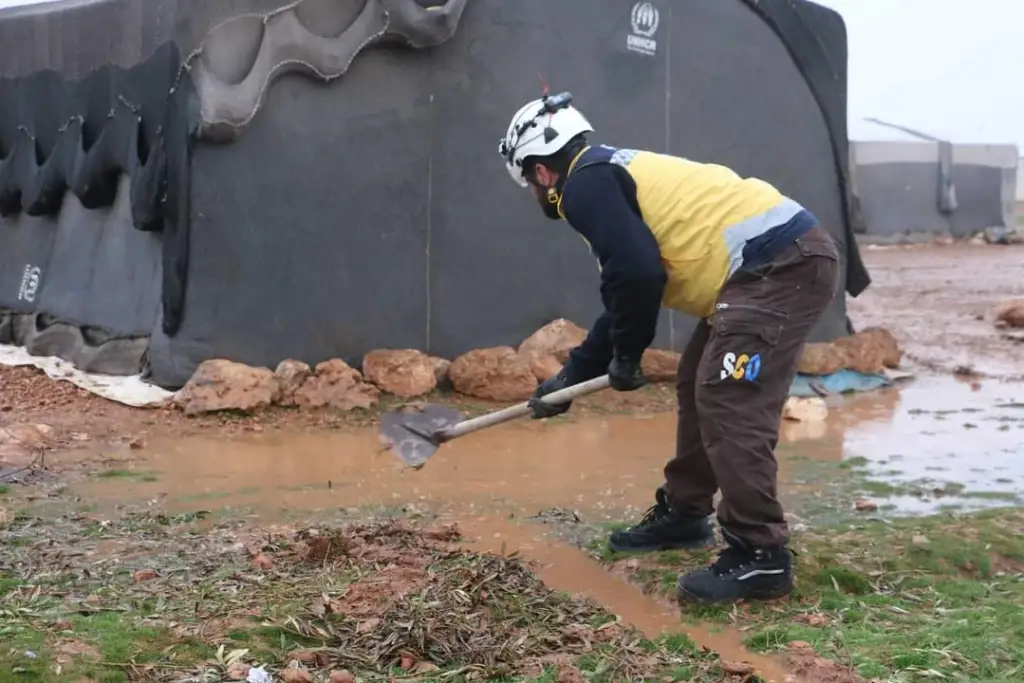 Last night, four tents were damaged in the Aqaba camp in the village of Kafr Arouq north of Idlib, as a result of the heavy rainstorm.
The Syria Civil Defense teams reacted quickly by opening waterways to drain the rainwater and help the affected civilians.
Moreover, the strong torrential rainfall has caused several tents to flood in the al-Muthanna camp, near the city of Dana, northern Idlib, and water pooled in the basement of a healthcare center (where most of the medicine are stored) and one of the roads in the city.
In addition to that, several cars were unable to move due to the mud in several areas in northwestern Syria.
The defense teams worked to draw out the accumulated water and remove it from the tents, assisting the inhabitants.
The White Helmets called on civilians in the camps to fortify their tents, protect children and the elderly from sudden temperature fluctuations, stay away from torrents and flooded locations, and inform their teams immediately in case of any emergency.
It also requested drivers to be careful while driving, slow down, and check the technical condition of vehicles, such as windshield wipers, brakes, and fog lights before setting out.
A few months ago, Idlib authorities organized a system to relocate the Syrians who have been living in the camps, which are prone to flooding or can be damaged by rainstorms.