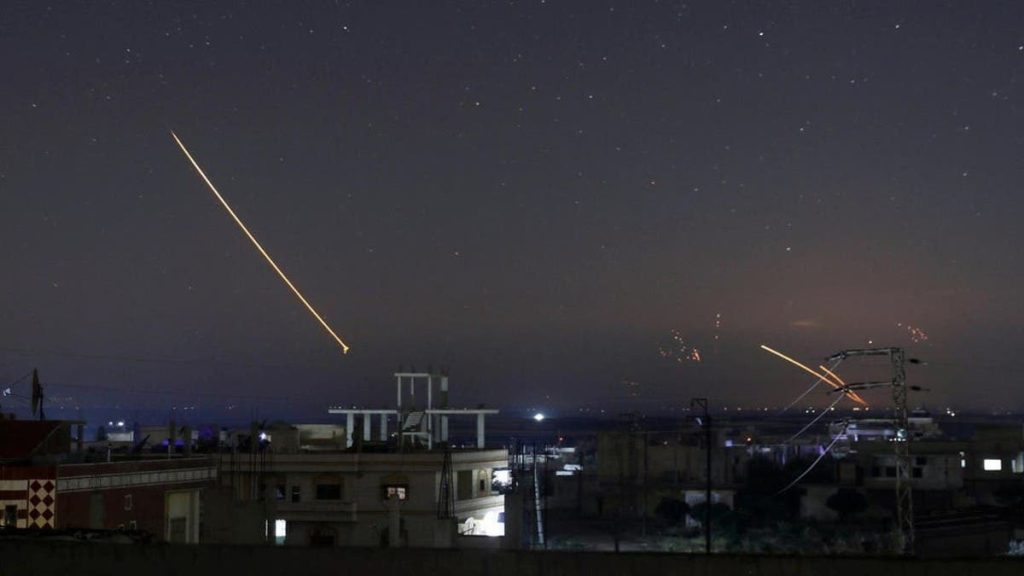 Israeli forces have launched yet another series of airstrikes on Iranian and Syrian regime sites in Homs, marking the third attack in less than ten days. The strikes resulted in casualties and were reportedly carried out on military bases located in the Dahr al-Qusayr region, including the T4 airbase in the eastern countryside of Homs and the Dabaa airport near Qusayr, a city situated close to the Lebanese border.
According to pro-regime media outlets, the airstrikes also targeted the air defense base near the village of Sunun in the Khirbet al-Hamam district, which led to massive explosions. These bases are known to house Iranian soldiers and Hezbollah fighters, who utilize the air supply lines to deliver weapons to their respective militias.
While the air defense media was able to intercept and shoot down some of the missiles, five soldiers were injured in the attack. The situation in Syria remains tense, as Israel continues to intensify its strikes on the airports and air bases of the Syrian regime in order to thwart Iranian aggression in the region.
The attack on the Homs countryside highlights Israel's determination to disrupt Iran's delivery of weapons to its militias, which has become increasingly prevalent in recent years. Western intelligence sources have confirmed that Iran is utilizing several civilian airports to deliver weapons, taking advantage of heavy air traffic to offload aid planes for the regime in the aftermath of the earthquake.
As the situation in the region continues to develop, the repercussions of these attacks remain unclear. Many observers are closely watching to see how these developments will affect the ongoing conflict in Syria and the broader Middle East.