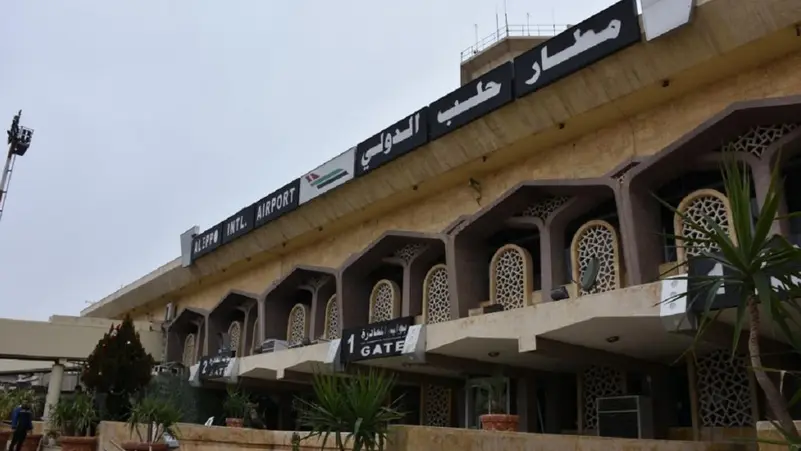 According to a pro-regime news agency, SANA, a military source reported that on Monday at approximately 11:35 p.m., the Israeli enemy conducted an air raid using dozens of missiles from southeast Aleppo, targeting Aleppo International Airport and several points surrounding the area. The source stated that the attack resulted in one soldier's death, five members, two civilians' injuries, material losses, and the airport being put out of service.
The Israeli Channel 12 reported that the bombing targeted defense factories in the al-Safira area in the eastern countryside of Aleppo, as well as the Nairab military airport. Among the targets were ammunition depots for pro-Iranian militias.
Specialists monitoring the activity of the Air Force and following up the Israeli raids on Syria confirmed that the raids took place through Jordanian airspace.
The regime source said that "the Israeli planes infiltrated Syrian airspace from the area of the Syrian-Iraqi-Jordanian border near Al-Tanf and came through the Syrian desert close to the Euphrates River. The aggression's missiles were fired from the airspace of the desert."
The source explained that targeting the defense factories near al-Safira in the eastern countryside of Aleppo could not be carried out from the airspace of the Mediterranean Sea. Israeli planes are unable to launch missiles from over the sea with ranges reaching southeast Aleppo, but they can only target Aleppo airport and the vicinity.
The source expected that the Syrian regime sites would be exposed to new Israeli bombing during the next 24 hours. This is because the past few hours witnessed intense reconnaissance flights to southern Syria, especially the vicinity of Damascus and Homs.
This comes as the date of the Iranian president's visit to Syria edges closer.