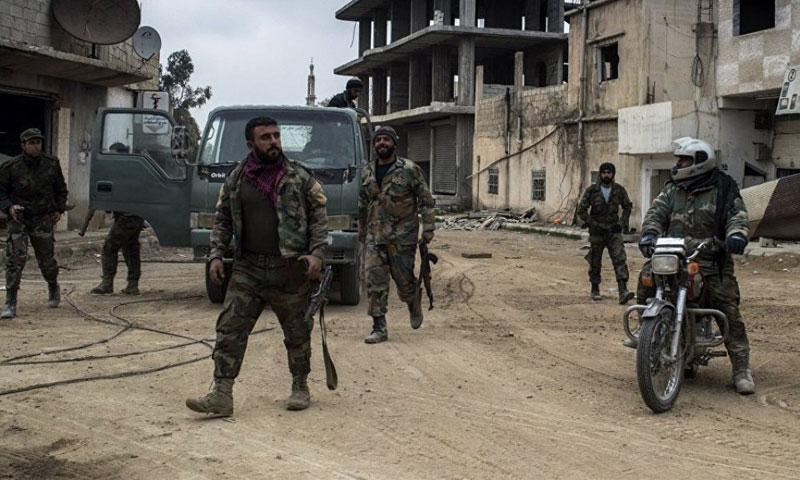 Explosions shook the city of Tafas in the western countryside of Daraa during the early hours of Wednesday. A local source reported that the first blast targeted the residence of former leader Khaldoun al-Zoubi, while the second explosion occurred at a farm owned by the same leader.
These incidents followed the expiration of the agreed-upon deadline between regime forces and local dignitaries. The deadline aimed to remove armed residents from the city who had resisted the regime's entry.
In their recent offensive, which commenced in early July near Tafas, regime forces seized control of the house previously owned by the late leader, Khaldoun al-Zoubi, who was assassinated in an ambush near the Muftara neighborhood on August 25, 2022.
Over the past few days, Syrian regime forces have deployed additional military reinforcements, including tanks and armored vehicles, near Tafas, in preparation for the upcoming operation.
The regime and Iranian militias claim that the assault on the city is justified due to the alleged presence of ISIS cells, believed to be holed up in al-Zoubi's former residence.
Local sources in Tafas speculate that the regime intends to attack the area and torment its inhabitants due to the symbolic significance of the city in rural Daraa. The majority of Tafas' youth refused to surrender their weapons and join the regime's forces following the reconciliation process in 2018.
It is worth noting that the regime deliberately undertakes such operations during this time of year, which coincides with the harvest season. This tactic aims to pressure the populace, deprive them of their livelihoods, and seize the majority of the harvest.