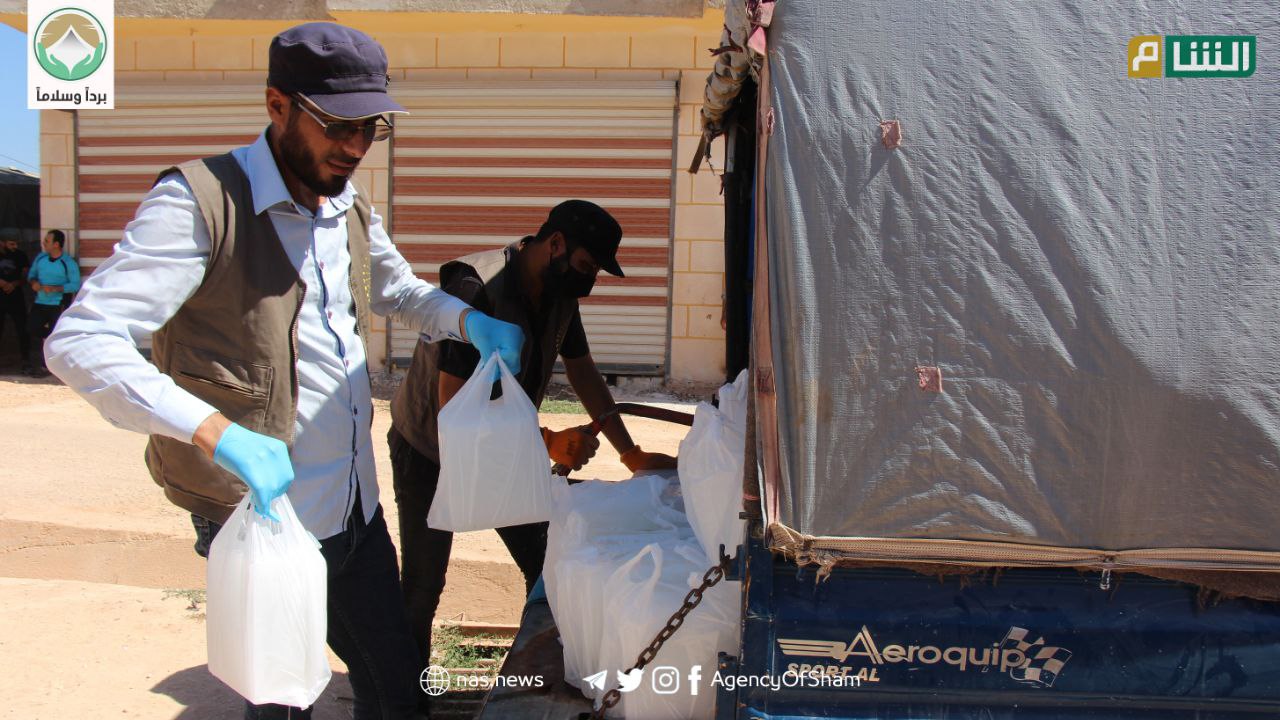 In a bid to alleviate the suffering of families residing in camps and temporary shelters, the Ministry of Development and Humanitarian Affairs of the Syrian Salvation Government in Idlib is set to launch a humanitarian campaign titled "Coolness and Peace". This initiative comes in response to the scorching heatwave that has engulfed the region, adding to the hardships already faced by the displaced population.
With the aim of providing relief to over 10,000 families, comprising approximately 50,000 individuals who are not benefiting from existing projects, the campaign encompasses a range of initiatives designed to address their immediate needs. These initiatives are part of the ongoing efforts by to support the vulnerable communities in Idlib.
The projects offered under the campaign include the distribution of ice blocks to help combat the sweltering temperatures, replacement of damaged tents with new ones, provision of non-food items (NFI) kits, logistical support, insulation materials, and covers. Additionally, the campaign will prioritize emergency cases and offer assistance to those affected by tent fires, ensuring a comprehensive approach to humanitarian aid.
The duration of the campaign is set to span five days, during which dedicated teams from the Ministry will be deployed to various locations across the governorate to execute the initiatives. Their objective is to reach as many families as possible, providing them with the much-needed relief and support in these challenging circumstances.
Speaking about the upcoming campaign, the Minister of Development and Humanitarian Affairs, Muhammad al Bashir, emphasized the urgency of the situation and the importance of collective efforts to alleviate the suffering of those affected. The Minister also acknowledged the valuable contributions of partners and humanitarian organizations in supporting these initiatives and urged for continued collaboration to ensure the success of the campaign.
The "Coolness and Peace" campaign serves as a crucial step towards mitigating the hardships faced by displaced families in Idlib, providing them with essential relief and assistance during the sweltering summer heat. It demonstrates the commitment of the Ministry and its partners to address the urgent needs of the affected population and promote stability and well-being in the region.
As the campaign gets underway, it is hoped that it will not only bring much-needed relief but also raise awareness about the ongoing challenges faced by displaced communities in Idlib. By highlighting the importance of humanitarian efforts and fostering a spirit of solidarity, the "Coolness and Peace" campaign sets a precedent for future initiatives aimed at providing relief and support to those most in need.