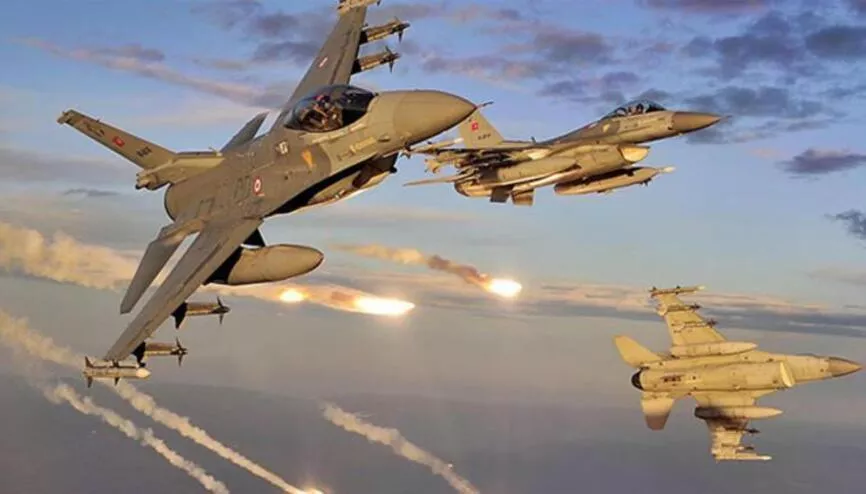 Last night, Turkish warplanes launched a series of raids on several sites belonging to the PKK and SDF in Syria and Iraq.
The Turkish raids targeted SDF bases in the Ain Digna region, near the city of Tal Rifaat in the northern countryside of Aleppo, and in Ain al-Arab, east of Aleppo.
Moreover, they targeted the Karachuk Mountain near al-Malikiyah, the silos of Dhahr al-Arab, in the countryside of al-Hasakah, and a point near the tower of Khafiyyah Salem, west of Ain Issa, in the countryside of Raqqa.
The Turkish raids also struck a base of the regime forces in the vicinity of the village of Qazali in the countryside of Tal Abyad, north of Raqqa.
Simultaneously, they targeted PKK bases in Qandil Mountain in northern Iraq.
Regarding the airstrikes, the Turkish Ministry of Defense tweeted last night: "The time has come for reckoning. The miscreants are being held accountable for their treacherous attacks."
Reports suggest that the operation has neutralized over 50 SDF and PKK members.
Recently, there were reports about the possibility of a Turkish military operation against the SDF in Syria, after the explosion that hit Istanbul a week ago.
On Wednesday, Turkish President Recep Tayyip Erdogan affirmed that his country will "resolutely continue to implement its strategy to eliminate terrorism and eradicate it from its roots".
The US Consulate in Erbil mentioned in a statement, on Friday, that it was "monitoring reliable and open-source reports that indicate the possibility of Turkey launching a military operation in northern Syria and northern Iraq in the coming days."