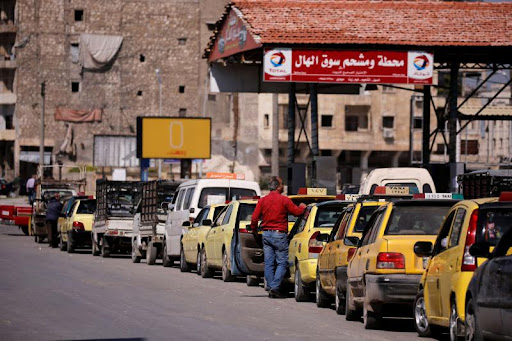 Prices for food and transportation in the regime-controlled areas witnessed a noticeable rise. Last Saturday, the Ministry of Trade and Consumer Protection of the regime announced the increase in the price of subsidized gasoline by up to 47%, justifying this by reducing the huge losses in the oil budget.
Sources from Damascus mentioned to al-Araby al-Jadeed that the owners of shops and groceries raised the prices of food immediately after the decision to increase the price of gasoline was issued.
The sources added that taxi drivers now demand at least 2,500 Syrian pounds per person, no matter how short the distance is. Even if the distance is reduced, the driver charges 1,500 Syrian pounds per kilometer, and bus drivers have raised the fees per person to at least 2,800 Syrian pounds.
The regime-controlled areas are witnessing a continuous rise in the prices of fuels and food supplies, while citizens have been complaining about the stability of salaries, which average about 70,000 Syrian pounds per month ($20) for public sector workers.
In contrast to reality, the regime's Minister of Trade, Amr Salem, had said in a recent press statement that people with low income will not be affected by the decision to increase the price of fuel. He added that the decision concerns middle-class citizens and those above them, meaning that those who own cars and who can afford to take taxis.
He then mentioned, "We take into consideration the neediest citizens, and there will be no impact on the prices of food for them, which are transported by cars running on diesel."
The regime has already raised the price of fuel four times this year, with an increase of up to double each time which was met with widespread criticism and anger from the locals with no signs of any improvements.
Meanwhile, locals residing in the liberated areas in northwestern Syria rejoiced the rise in value of the Turkish Lira, the currency used there, as it dropped from around 18 to 12 Turkish Liras (approximately) per US Dollar, hoping for further increase in its value. This comes after difficult weeks of inflation which affected the prices of fuel, food and other daily commodities that concern the life of the people.