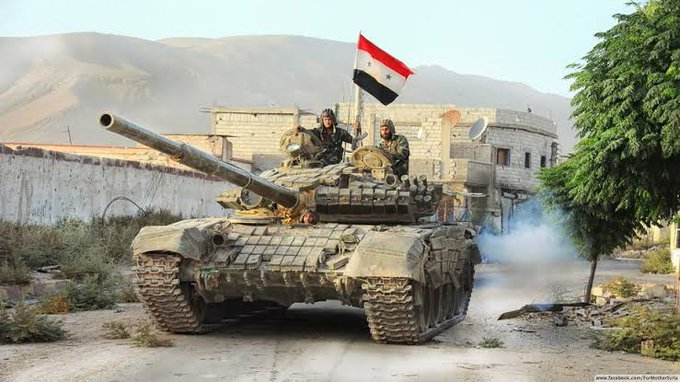 Former opposition fighters from the Free Syrian Army thwarted an attempt by the regime and Iranian forces to advance towards the axes of Tafas city, in the western countryside of Daraa.
Media sources from Daraa claimed that the failed attempt resulted in 12 of the regime's members being killed while dozens of others have been severely wounded.
They added that the former opposition fighters managed to destroy a T55 tank of Assad's forces, as well as a military bulldozer, within the southern neighborhoods of the besieged city.
The regime forces have been trying to advance towards the headquarters of the former leader of the Free Syrian Army, Khaldoun al-Zoubi, after they took over a nearby building, earlier in the morning.
Today, Assad's forces heavily struck the southern neighborhoods of Tafas city with heavy artillery and tank shells, leading to civilian casualties.
Reportedly, the civilians present around the region have started to evacuate their homes due to the instability of the situation.
The Assad regime has been sending reinforcements and gathering around the city of Tafas for several days while bombing the region intensely.
Analysts believe that this is another step (for the Assad regime) to take complete control of the province of Daraa.