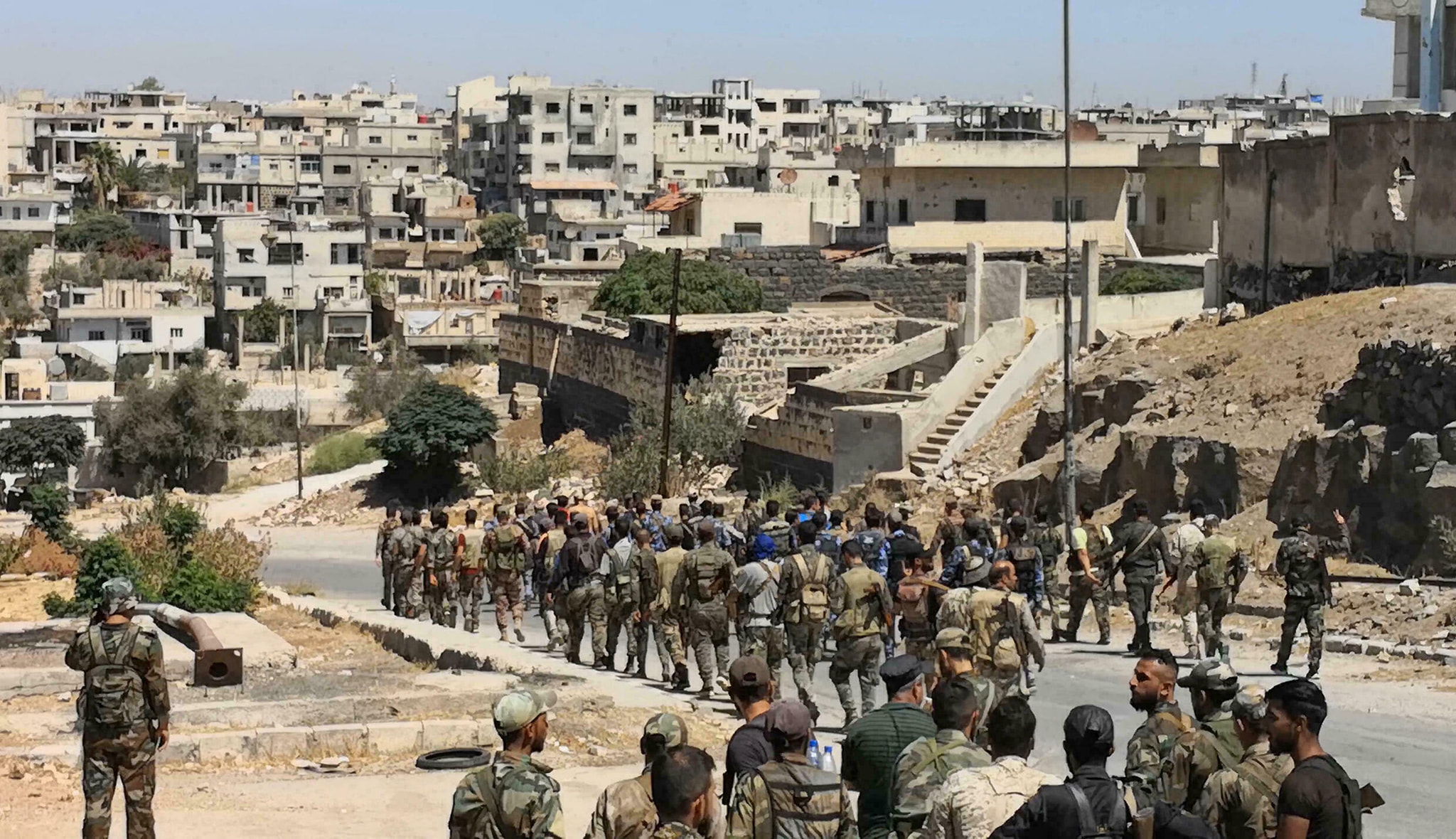 Yesterday, five regime members were killed and wounded when their military vehicle was targeted with an explosive device in the western countryside of Daraa.
Meanwhile, the municipal stadium in Daraa witnessed military build-ups and reinforcements for the regime forces, amid a state of fear among the locals present there.
Activist Abu al-Baraa al-Hourani said in an interview with al-Araby al-Jadeed: "Two members of the regime forces were killed, and three seriously wounded, as an explosive device exploded in their vehicle. It was on the road between the towns of al-Bakkar and Jubailiya, west of Daraa".
However, al-Hourani said that "the regime forces raided several houses in the town of al-Bakkar and threatened the people to burn the town and destroy their homes".
Al-Hourani confirmed that the regime forces arrested three civilians during the raids, including a 60-year-old disabled man and a young man with several fractures in his feet. He described the security situation in the area as "horrible".
He added that the regime forces also sent new military reinforcements to the al-Ray region in the vicinity of the town of Muzayrib, west of Daraa, and set up a heavily armed military checkpoint.
A civilian named Muhammad Jalal al-Awadi was also killed on Friday morning after he was shot in the town of Tal Shehab, western Daraa, according to al-Hourani.
Moreover, he indicated that military reinforcements for the regime forces had also arrived at the municipal stadium in the central countryside of Daraa. He believed that their aim was to separate the city of Tafas from the towns of Atman and Yaduda in the western countryside of Daraa.
Al-Hourani pointed out that the success of the Syrian regime in cutting off the road between Yaduda, Tafas and Atman, would mean that they would be militarily victorious in the region (if it occurred).
He noted that this road is considered a supply route and the town of Yaduda, which mediates the two areas, is located on the international Damascus – Daraa highway, 4km away from Daraa city.