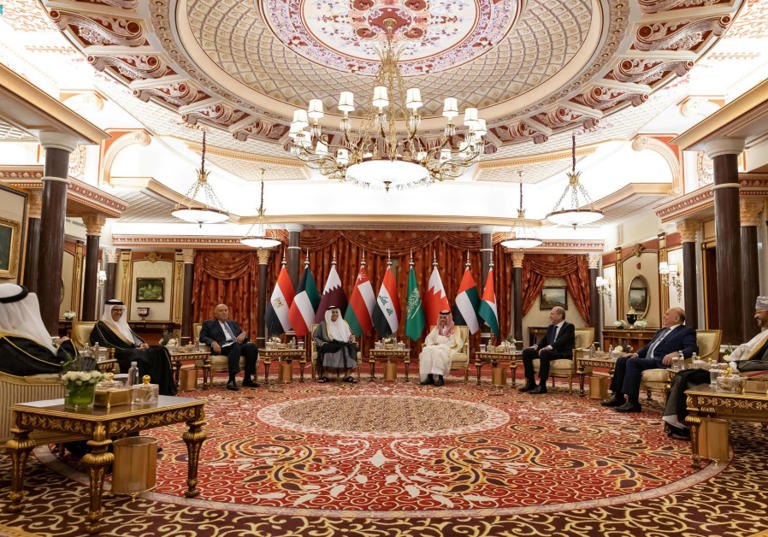 Last night, the Saudi Ministry of Foreign Affairs issued a statement after the informal consultative meeting in Jeddah. The Gulf Cooperation Council, Jordan, Egypt, and Iraq attended the meeting where they exchanged on several issues and developments in the region.
According to the Saudi statement, they consulted and exchanged views on the efforts made to reach a political solution to the Syrian crisis that ends all its repercussions and preserves Syria's unity, security, stability, and Arab identity, and returns it to the Arab League.
The ministers stressed that the political solution is the only solution to the Syrian crisis, and the importance of having an Arab leadership role in efforts to end it – setting up the necessary mechanisms for this role, and intensifying consultations among the Arab countries to ensure the success of these efforts.
They also agreed on the importance of resolving the humanitarian crisis, providing an appropriate environment for aid to reach all regions in Syria, creating the necessary conditions for the return of Syrian refugees and IDPs to their homes, and taking more measures that would contribute to stabilizing the situation for the entire Syrian territory.
The attendees also stressed the importance of "fighting terrorism" in all its forms and organizations, combating drug smuggling and trafficking, and the importance of state institutions preserving Syria's sovereignty over its lands to end the presence of armed militias there, and foreign interference in Syrian internal affairs.
However, at the end of the meeting, no concrete plan or measures came out on ways to execute the ideas that were discussed.