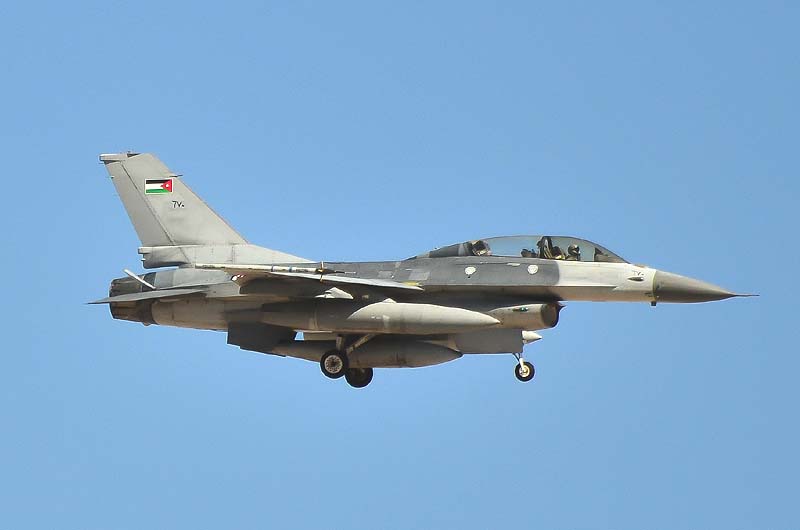 Jordanian warplanes launched airstrikes targeting a drug production factory in southern Syria, after threats of a military operation inside Syrian territories if smuggling operations did not stop.
Local sources reported that fighter jets, believed to be Jordanian, carried out airstrikes on the refining station near the town of Kharab Al-Shaham, which borders Jordan, in the western countryside of Daraa.
The refining station contains a drug production factory run by Hezbollah-backed militias, which is used as a temporary storage and launching site for smuggling operations, according to "Free Horan Assembly."
In a related context, an airstrike targeted the home of Ma'ari Rweished Al-Ramathan in the Shaa'ab village in the eastern countryside of Sweida, killing him, his wife, and their six children.
Al-Ramathan is known for his affiliation with the military security branch affiliated with the Syrian regime and his close relationship with Hezbollah, and he is considered one of the major drug traders and smugglers in the area.
Jordanian media circulated recorded footage showing fighter jets flying over the city of Ramtha in northern Jordan during the airstrikes on the countryside of Sweida and Daraa, confirming that the sound of explosions lasted for more than 10 minutes.
No official statement has been issued by the Jordanian government regarding these airstrikes as of the preparation of this article, and the Syrian regime did not comment on them, and its affiliated media did not address them.
Jordanian threats to launch a military operation inside Syria came after Jordanian Foreign Minister Ayman Safadi threatened to carry out a military operation inside Syria if attempts to smuggle drugs into Jordan did not stop.
Safadi said in a statement to CNN last Friday that drug smuggling poses a threat not only to Jordan but to the Arab Gulf states and all countries in the world, confirming that the Jordanian authorities have repeatedly requested that Syria take measures to prevent drug smuggling across the border.